Tony Hawk's Pro Skater HD Screenshots, Features Announced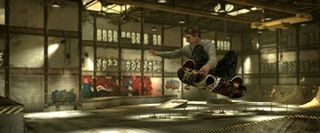 Today Activision revealed more about their HD remake of Tony Hawk's Pro Skater. They've provided a features list as well as a batch of screenshots.
Tony Hawk's Pro Skater HD features seven refurbished levels from Pro Skater and Pro Skater 2. These levels were picked based on fan feedback:
Warehouse
School 2
Mall
Phoenix
Hangar
Marseilles
Venice
Players will have both level-specific and global objectives to pursue throughout the game. They'll be easier to accomplish this time around thanks to refined controls. The game's controls are said to incorporate changes made later in the series, such as THPS2's introduction of manuals.
Hawk will be joined by several other real-world skate pros in the game. Nyjah Huston, Chris Cole, Eric Koston, Andrew Reynolds, Rodney Mullen, Lyn-z Adams Hawkins (Pastrana) and Riley Hawk were all confirmed for the cast today.
Developer Robomodo is also including online multiplayer. We'll have to wait until a later date to find out more, though. The game won't hit PSN and Xbox Live Arcade until this summer so they've got plenty of time to make additional announcements.
Image 1 of 6