Top 10 Coolest Game Trailers Of 2008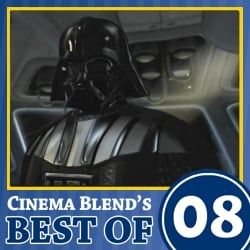 Yesterday we unleashed the Top 10 Hottest Game Trailers of 2008. It was plenty hot and heavy, no doubt. But none of those trailers made you go, "Wow, that was freaking cool!" So it was only necessary that since Cinema Blend is wrapping up 2008 with a bang, we compliment the really hot game trailers with the really cool game trailers.
It's hard finding a trailer that sticks with you and keeps itself glued to the walls of your memories. Trailers that manage to do such a feat are easily worthy of some kind of media recognition. So in the good spirit of acknowledging awesomeness where awesomeness deserves recognition, Blend Games has proudly put together a list of the Top 10 Coolest Game Trailers of 2008. So without wasting a whole lot of words on a pointless lead-in to the list, you can check out our top ten picks for the coolest gaming trailers of 2008. Also, don't forget to check out the rest of Cinema Blend's Best of 2008 features.
No. 10: Resistance 2 E3 2008: Exclusive Trailer
Picking just one trailer for games like Resistance 2 is very difficult because the game has so many great trailers. However, the E3 2008 trailer was the one that really captured the scope and scale of the game's world-vs-world war premise, and the desperate need to rebel and resist the unyielding alien intruders. The haunting radio message set among the ruined picturesque landscapes of America was filmed with amazing quality. I think this is one of the coolest trailers of year and that's why it deserved to be on this list, no questions asked.
No. 9: Lost Odyssey Extended TV Spot
I'm sure many of you were thinking how the trailers could keep getting any better? But they do, they do! This trailer barely made the list with its early February release, and thank goodness for that because this really is an awesome trailer. I can't tell you how many times I just kept watching it over and over again. This TV spot is so endearing and sentimental, yet it contains a griping glimpse into an epic journey. If it weren't for so many other really cool trailers on this list, I would be hard pressed to say that it didn't belong in the number one spot. But making the top ten for the entire year is still a monumental achievement in media recognition.
No. 8: Gears of War 2 E3 2008 Trailer
Again, this is one of those games where it had so many great trailers, it was tough to pick just one. However, there was only one trailer that stood out among the rest, the E3 2008 trailer. It had gamers screaming "Game of the year!" way back in July. Unlike the launch trailer, this video isn't riddled with explosions and gunfights. Instead, the trailer exemplifies those "GOTY!" sentiments with a snazzy voice-over that maintains a serious overtone of dearth and dread. The bullets actually don't start flying until near the end of the trailer, and it all swells to a climax that leaves gamers wanting a lancer and the urge to enlist.
No. 7: Chronicles of Riddick: Assault on Dark Athena Debut Trailer
What could obviously be the best thing to happen to Vin Diesel's career at the moment is that people actually don't ignore the Chronicles of Riddick: Assault on Dark Athena. This game will probably be a sleeper-hit, no doubt. But in the mean time this game is looking mighty fine due to the debut trailer Atari has released for this game. It shows off everything necessary to make this game look like a must-play, and features some spot-on voice-over work by Vinny D. himself. This trailer easily made this list because there's nothing about it that isn't cool. Love the shadows, baby...love the shadows.
No. 6: Dissidia: Final Fantasy Japanese Trailer No. 2
I know this trailer is entirely in Japanese and is made to make North American and European gamers angry and jealous, but this list simply would not have been complete without this unbelievably dynamic trailer. Combining the Final Fantasy universe like never before, this game really does act as if it could be the final Final Fantasy game. The trailer shows off lead characters like Cecil and Squall (amongst others) as they battle classic Final Fantasy villains in spectacular in-game and cinematic sequences. It's definitely a trailer worth watching more than once and it easily fits in this list as one of the absolute coolest of 2008.
No. 5: Resident Evil 5 Captivate 08 Trailer
Despite controversy following this game throughout most of 2007 and early 2008, Resident Evil 5 is still one of the most anticipated games for the Xbox 360 and PlayStation 3. And this year Capcom set out to compel gamers and critiques alike with a trailer that embodies suspense, action, intrigue and a slight gesture for the cooperative mode featured in the game. I admit that the trailer doesn't incite sweaty palms like the one from 2007's E3 event, but the list simply would not have been complete without an engaging and action-packed trailer from the incomparable Resident Evil 5.
No. 4: Mirror's Edge SCEE PlayStation Day Trailer
Originally the demo trailer was here, and then the launch trailer was here, and then I realized something: The SCEE PlayStation Day Trailer made everyone fall in love with Mirror's Edge after they seen it. The music has become an instant phenomenon of awe-inspired roof-jumping, and the game has scored very well at every major gaming publication. It was decided that the first in-game trailer was the one to be on this list due to its quality, the untampered-with "Still Alive" instrumental track, and the humble introduction to gaming's new female icon, Faith.
No. 3: Star Wars: Force Unleashed Launch Trailer
Wow, what a trailer. You almost have to question if anything on this list is any cooler? Well, basically from here on out these last three game trailers could easily tie for first. But this game actually had better trailers and better story videos than it had gameplay. Sadly, all the cool features shown off in the following footage was sparse and brief during the actual game. It's funny that the real game was somewhat mundane and repetitive, despite the fact that the Launch Trailer was completely suited for a blockbuster movie. Then again, I guess it's no different than Episode one through three.
No. 2: Grand Theft Auto IV Everyone's A Rat Trailer
With this game it was almost impossible to pick just one trailer suited for this spot, simply given that they were all so well done. In the end, (and for the consideration of file size) the best trailer coming out of GTA IV, and easily one of the coolest of 2008, has to be the "Everyone's A Rat Trailer". It captures some poignant moments of the game with superb craftsmanship. The cinematics actually make the game look as if it's a serious crime drama, even more so than what it really is. Slightly better graphics and a more consistent musical score easily could have put this at the number one spot. But number two isn't a bad place to be when compared to the scope of all the other game trailers released this year.
No. 1: Metal Gear Solid 4 Courage Is Solid
This was a really tough call between the "Courage is Solid" trailer and the "Cinematic Highlights" trailer. But in the end, "Courage is Solid" was so freaking awesome that it had to be number one. Heck, this trailer looks cooler than most big-budget action movie trailers. The general story is outlined very nicely, while the main characters receive brief yet well-received cameos in this extended trailer. If you didn't care about Metal Gear Solid 4 before, this trailer will easily change your mind. And if anyone really wants to argue that this trailer doesn't belong in the number one spot for the Coolest Game Trailer of 2008, just try watching it once without watching it again. I dare you.
For more of Cinema Blend's BEST OF 2008 go HERE.
Your Daily Blend of Entertainment News
Staff Writer at CinemaBlend.