Train Simulator 2012 Gets Steam Workshop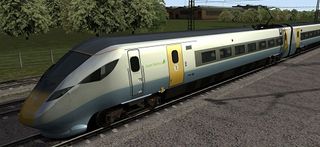 While playing one of the previous Train Simulator games, have you ever wanted to turn your train into, I don't know, a series of interconnected dragons? There's probably a mod for that. Finding and implementing such alterations is going to be easier than ever before as Railsimulator.com has announced that Steam Workshop functionality will be integrated into Train Simulator 2012.
With Steam Workshop, players will be able to easily pick and choose which modifications they want to have plugged into their game. They'll also be able to comment on these mods, review them or make recommendations to their friends.
And with Train Simulator, there will probably be enough mods as there are expansion packs. In fact, I think there are close to 100 different expansion packs available for the train simulator, giving gamers almost infinite possibilities for getting from one destination to another in various train cars.
Now usually this type of modding usually requires a bit of code finagling on the part of the player, which takes quite a bit of knowledge and poses more than a few opportunities for things to go horribly wrong. With Steam Workshop, choosing your mods is as simple as clicking on a button. All of the code work is done seamlessly behind the scenes.
"We're thrilled to be adding this functionality as a result of our strong community and great relationship with Steam," said RailSimulator CEO Paul Jackson. "A major feature of our game is the world editor, in which users may create new railroads and scenic setting from a blank canvas, and Steam Workship opens up a new way of sharing content with other enthusiasts."
For additional information on Train Simulator 2012, visit the RailSimulator website.
Staff Writer for CinemaBlend.
Your Daily Blend of Entertainment News
Thank you for signing up to CinemaBlend. You will receive a verification email shortly.
There was a problem. Please refresh the page and try again.