Transformers: Fall of Cybertron DLC Will Add Dinobots To Multiplayer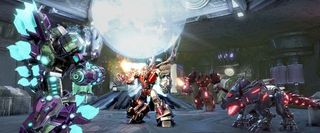 High Moon Studios will release a DLC pack for Transformers: Fall of Cybertron's competitive multiplayer on September 11th. The Dinobot Destructor Pack will allow players to take on the role of Dinobots in online battles.
The Dinobots transform between robot and dinosaur forms. Fall featured them in the single-player campaign, marking their series debut. They were arguably the most exciting additions to the cast so it seems natural to add them in online play as well. Four Dinobots will be included in the DLC: the T-Rex Grimlock, triceratops Slug, stegosaurus Snarl, and pteranodon Swoop. You can customize these bots using the multiplayer's new character builder.
High Moon first intended to include the Dinobots in the base game's multiplayer. However, they had to shelve these plans halfway through development due to these bots' different animations and character models. The Dinobots also didn't fit into the four-class system already established for multiplayer. However, Director Matt Tieger told Polygon that a portion of the development team came in for an extra weekend and figured out how to include them in online play.
"I came in on Monday morning and there was a tyrannosaurus-rex running around in multiplayer," said Tieger. "I have never been happier to have been proven wrong."
High Moon plans to ultimately introduce the Insecticons, such as Hardshell and Kickback, to multiplayer as well. No word on when this particular content will go live.
Image 1 of 8
Your Daily Blend of Entertainment News
Staff Writer at CinemaBlend.