Transformers: Revenge Of The Fallen Website Is Now Open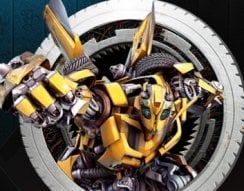 I've never been a fan of "Website Open" news. It seems a little odd informing people on one website that another website is the place they should be heading to. This is even more poignant when there's no new information about the game revealed, other than that it now has a website attached to it.
According to the press release, "fans can personalize the look and feel of the site by choosing their favorite character-based Transformer theme. Members will then receive exclusive updates through email newsletters and also be granted instant access to a range of exclusive concept art, in-game screenshots and all upcoming video reveals leading to the launch of Transformers: Revenge of the Fallen."
The website will also feature a host of goodies for fans, including streaming music, videos, screenshots and wallpapers. And considering that this is rather bland news, I've decided to re-include a trailer for Transformers: Revenge of the Fallen, just for the heck of it. You can check out the trailer below or visit the Official Transformers: Revenge of the Fallen Video Game Website.
For more gaming news, info, updates and insight, be sure to stay tuned in with Blend Games.
Staff Writer at CinemaBlend.
Your Daily Blend of Entertainment News
Thank you for signing up to CinemaBlend. You will receive a verification email shortly.
There was a problem. Please refresh the page and try again.