Two New Digimon Games For PS2 And Nintendo DS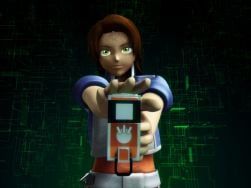 H'm, I was starting to think that Namco-Bandai didn't make anything other than Naruto games. No, no, I'm kidding. Anyway, they are working on new Digimon games for the PS2 and DS. The PS2 Digimon game will be a straight-through RPG, while the Nintendo DS version will be a not-so-Pokemon adventure game.
Firstly, the Nintendo DS is actually getting two games in one. It's Digimon World Dawn and Digimon World Dusk. According to the press release, "With the success of the widely popular Digimon franchise, Digimon World Dawn and Dusk truly encapsulates what fans of the series have come to expect: a compelling storyline and a deep RPG," said Makoto Iwai, Executive Vice President and COO of Namco Bandai. "This latest installment continues to take full advantage of the DS hardware to bring an enriching gameplay experience that is perfect for the on-the-go gamer."
Furthermore, players will be given two different perspectives of the catastrophe through the eyes of opposing tamers all the while collecting and evolving more than 400 Digimon from eight different species. A list of features is just below, but first, we have to discuss what's going on with the PS2 Digimon game. Basically, players will assume the role of Marcus, a street-fighter who doesn't like to use his fist. As Marcus, it is up to players to find the missing kids all the while defeating the deadly Seven Demon Kings and their evil minions. The game spans over a dozen stages with a storyline that parallels the cartoon; players can team up with more than 140 Digimon characters to battle against evil and save the world.
Now it's time to break down the facts. You can check out the features below...also note that more info and media is available at the Official Namco Bandai Website.
PS2: Digimon World Data Squad features:
• Dozens of Digimon - As you travel through over a dozen stages, collect and evolve over 140 Digimon. Each Digimon has its own unique strengths and weaknesses, and upgrading your Digimon can be easily done through the intuitive Galactica Evolution System!
• Exciting new look and feel - Digimon World Data Squad features cel-shaded artwork and emotive Digimon that are affected by the way you treat them.
• Numerous items to wield - There are over 250 items to find and acquire during the course of the game. Some items will help solve complex puzzles, while others will provide different advantages in battle.
• Unique storyline and characters - Digimon World Data Squad features new exclusive characters as well as a storyline that parallels the new and exciting Digimon Data Squad cartoon. Additionally, the same voice actors from the cartoon series have lent their talents to the game!
DS: Digimon World Dawn and Dusk features:
• Hundreds of Digimon - As players travel throughout the land, collect, tame, train, and evolve over 400 Digimon from 8 different species. Each game contains some unique and rare Digimon that can only be obtained through wireless communication with the other version of the game!
• New World Maps - Digimon World: Dawn and Dusk both contain a new world map, which always shows where players have been and their current location. The maps also show info on each dungeon, including what items and Digimon are available.
• New & Improved Digifarm - Raise, train, and evolve new Digimon. Different farms and goods help a Digimon learn new abilities and can boost their stats.
• Compelling and Strategic Battle System - With intense 3-on 5 turn-based battles, manage the location of your Digimon to gain an edge over enemies.
• Wi-Fi Connectivity - Take your Digimon and battle over a Nintendo Wi-Fi connection. The winner of Wi-Fi battles obtains "Tamer" points which can be used to obtain unique items. Rare Digimon can also be acquired by Digi-matching through a Wi-Fi connection.
Staff Writer at CinemaBlend.
Your Daily Blend of Entertainment News
Thank you for signing up to CinemaBlend. You will receive a verification email shortly.
There was a problem. Please refresh the page and try again.