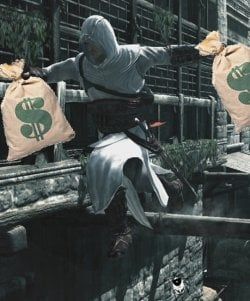 The video game industry has become a financial monster. Dr. Frankenstein would have had an army of flower picking soldiers if each penny in the industry was a watt. We're just now stepping out of what has been documented as the most successful holiday season in video game history. So when a company out performs it's own expectations, you know things are getting electric.
Today, Ubisoft announced that they had surpassed the new forecast set forth on December 13th for their third-quarter sales. If you pay attention to this kind of thing, you'll remember the company had raised it's projections to €410 million. Yes, that's 410 million euros. They were raising their quarterly projection in response to what was supposed to be a very successful Christmas. Unsurprisingly, the holiday season was highly successful. The part that sends a jolt throughout the world is they demolished their own, higher, predictions.
Ubisoft's third fiscal quarter ended on December 31st. In the thirteen days between the new forecast and the end of the quarter, the company was able to bring their sales numbers up to €450 million. That's 40 million euros higher than expected. The company credits this shocking surprise to an exceptional showing by Assassin's Creed, which became Europe's best selling game of 2007 for the PS3, and the second best selling title on the Xbox 360. In the United States, those numbers drop down one slot, taking second and third place for the consoles, respectively.
The company mentioned other titles that helped push the sales number up, which mostly consists of casual and shovelware titles. Included in the announcement was an unsurprising new projection for the fourth quarter. With Assassin's Creed seeing a release for both the PC and DS, Rainbow Six Vegas 2, and Lost coming out this quarter, the companies growth is projected to continue into fiscal 2008. Below are some highlights from Ubisoft's killer year.
Third-quarter sales up 44% to €450 million, outstripping forecasts.
In 2007 Ubisoft moves up to the position of third-leading independent publisher.
Two new franchises created – Assassin's Creed and Imagine.
Acquired Japanese video game development studio Digital Kids.
Your Daily Blend of Entertainment News
Your Daily Blend of Entertainment News
Thank you for signing up to CinemaBlend. You will receive a verification email shortly.
There was a problem. Please refresh the page and try again.