Ubisoft Responds To Watch Dogs Downgrade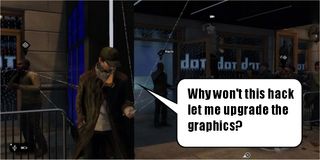 A press representative for Ubisoft has been running the typical damage control for the upcoming open-world hacktion title, and the claim is that the game has not been downgraded.
Ubisoft's PR and event manager, Tessa Vilyn, took to Twitter to defend Watch Dogs after information about the game being downgraded scurried across the internet faster than a vomit roller-coaster at a junior high beer party, where GamePur caught the tweets from Vilyn, who stated that...
Dat damage control.
But still, the evidence in that GIF says it all. That's not to mention that this isn't the first time Watch Dogs has been caught under the crosshairs of the pixel counters. Remember that Aisha Tyler trailer for the Xbox 360 and PS3? Yeah.
As discussed in our own comment section here at Gaming Blend, the likelihood is that the new video for Watch Dogs (which you can view below) is footage from the console version of the game, and that said console version(s) have been optimized over the past couple of months, with some key graphical features removed in order to hit that 960p and 1080p at 30 locked frames per second.
It's also been discussed that given that the PC version still runs at 4K and up to 120fps, the definitive version of Watch Dogs will be on PC and that it may maintain the same kind of graphical fidelity as showcased at the E3 2012 conference.
It's not uncommon for games to take a graphical step back from their original promotional material, it's what I like to call the Forzaning.
Sadly, there's no way to know exactly how badly the game has been down-scaled to run on old and new hardware alike until the pixel counters get a chance to pick it apart. But one thing is for sure: What you see at E3, stays at E3.
Staff Writer at CinemaBlend.
Your Daily Blend of Entertainment News
Thank you for signing up to CinemaBlend. You will receive a verification email shortly.
There was a problem. Please refresh the page and try again.