Ubisoft Reveals That Raving Rabbids Top Their Sales Charts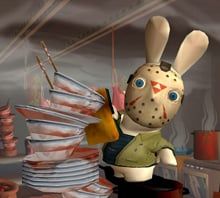 Ubisoft has released the sales numbers for their big franchises and its no real surprise what ends up at the top. With the company recently making a major purchase into the Tom Clancy name you had to know that the Clancy games would be high up there. In fact they take 3 of the 4 top spots. I'll be honest that I am slightly surprised that the Rayman series is on top with 22 million units sold worldwide.
The Clancy name has accounted for a total of 55 million units, so that purchase looks to be worth it. And even the latest Ubi IP, Assassin's Creed, is showing strong with 6 million units. Now the worrisome question: When does EA make its takeover move? Ubisoft is currently in a strong position to acquire a few small developers and increase their prowess. And with the newest Clancy title, HAWX, dropping later this year they may have another hit on their hands.
Here is the list of Ubisoft's top selling franchises:
Rayman: 22 million units
Tom Clancy's Rainbow Six: 20 million units
Tom Clancy's Splinter Cell: 19 million units
Tom Clancy's Ghost Recon: 16 million units
Driver: 14 million units
Petz: 13 million units
Prince of Persia: 11 million units
The Settlers: 7 million units
Assassin's Creed: 6 million units
Brothers in Arms: 5 million units
Imagine: 4 million units
Far Cry: 4 million units
Red Steel: 1 million units
Your Daily Blend of Entertainment News
Staff Writer at CinemaBlend.