Ubisoft Reveals Watch Dogs 2, Here's What We Learned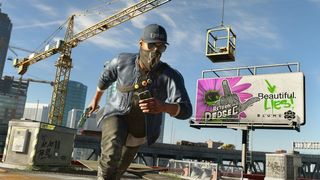 Today has been a pretty big day for reveals, seeing as Injustice 2, Deus Ex and Watch Dogs put out information on new games. Ubisoft officially revealed Watch Dogs 2 this morning along with a new trailer and a ton of new information.
Watch Dogs 2 will be set in an open-world environment in the city of San Francisco. The protagonist in the game is named Marcus Holloway, a young and talented hacker who comes under fire after being blamed for a crime he didn't do. Holloway will join forces with DedSec and use hacking to shut down the invasive operating system, called ctOS 2.0, that is connected to the city's infrastructure.
Watch Dogs 2, very much like its predecessor, will see the return of hacking into every citizen's personal life (sometimes it was TMI) as well as all kinds of things in the city like cranes, drones and security robots. Everything feels as if it's at your disposal for your hacking pleasure.
There will be three different special editions of the game that are up for pre-order including the Deluxe, Gold and Collector's Edition. The Deluxe edition will include the game and a number of digital customization options. The Gold Edition includes all of the aforementioned, but will also include the season pass. And then finally, the Collector's Edition will include the exclusive Wrench Junior robot. The robot can actually be controlled with an app on your smartphone.
And with any pre-ordered edition of the game, players will get an extra mission called Zodiac Killer, which will allow players to unlock a new outfit.
I'm excited to see that Watch Dogs 2 will take place in San Francisco. Whenever anyone thinks of a game taking place in a city, they think of New York City, so it's nice to see a game that isn't following that typical pattern, seeing as how Ubisoft started in Chicago and are now heading to San Francisco. I am still hoping for that extra "oomph" to give the game a little something different than the first game.
Watch Dogs 2 has been confirmed for a November 15 release on the PS4, Xbox One and PC. For more information, you can visit the official website.
Your Daily Blend of Entertainment News
Thank you for signing up to CinemaBlend. You will receive a verification email shortly.
There was a problem. Please refresh the page and try again.