Uncharted 2 Multiplayer Demo Is Pre-Order Exclusive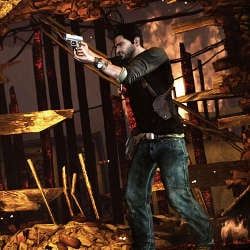 The Uncharted 2: Among Thieves multiplayer beta wrapped up on Sunday and if you missed out, don't worry. There's going to be another chance to try the game before its release.
Pre-ordering Uncharted 2 through GameStop will get you access to a timed multiplayer demo. You'll be able to download and play the demo from August 19th to September 27th. In addition, you'll get an in-game attribute called Revenge to help you out in your multiplayer battles.
Gamers were granted access to the Uncharted 2 beta by vouchers included with copies of inFamous. Uncharted 2 will be released this fall. GameStop's got it listed at an October 1st release right now.
Staff Writer at CinemaBlend.
Your Daily Blend of Entertainment News
Thank you for signing up to CinemaBlend. You will receive a verification email shortly.
There was a problem. Please refresh the page and try again.