Uncharted: Golden Abyss Walkthrough Video Introduces Marisa Chase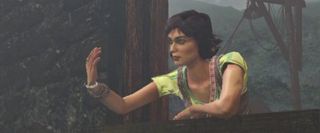 Sony Bend is showing off their PS Vita title Uncharted: Golden Abyss at Tokyo Game Show this week. They've released a new walkthrough video that reveals Marisa Chase, a new lady friend for Nathan Drake.
Golden Abyss is a prequel to the Uncharted: Drake's Fortune, the first entry in the series released for the PS3. Nathan Drake is once again searching for an ancient treasure. Yep, it's another lost city.
In the walkthrough video, Nathan Drake gets trapped in a burning building. Marisa Chase soon shows up to help him. She accompanies Drake through the level, helping him traverse various obstacles. Chase also gives Drake someone to bounce cheesy one-liners off of.
Golden Abyss will be one of the launch titles for the Vita. The handheld is expected to launch in Japan in December, and elsewhere in the world in 2012.
Staff Writer at CinemaBlend.
Your Daily Blend of Entertainment News
Thank you for signing up to CinemaBlend. You will receive a verification email shortly.
There was a problem. Please refresh the page and try again.