Upcoming Film Hardcore Henry Is Of Course Being Turned Into A Video Game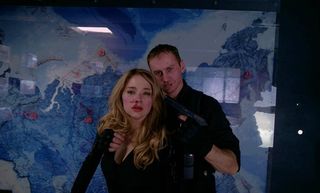 From the moment you set eyes on the trailer, all gamers can really think about is "This looks so much like a video game in first-person." Hardcore Henry has been described as a mix of Call Of Duty, Jason Bourne and Captain America. While that description might sound a little wonky, it's because it is. And now, Hardcore Henry is being turned into a video game, because that's really what everyone was thinking when they saw the trailer anyways, right?
Hardcore Henry has been dubbed the world's first POV action movie, but I remember a nifty little scene in DOOM, starring The Rock, where they went first-person shooter. That was probably the best scene out of the whole movie. But an entire movie in first-person? After IMDB asked director Illya Naishuller if the movie was going to be turned into a video game, he had this to say.
So there you have it. While we don't yet have any details on the game, Hardcore Henry is getting turned into a video game. I personally think it was only a matter of time before someone came out with a movie that encompassed the video gaming essence of a first-person shooter, but I never thought it would be this popular. If you haven't seen the trailer for yourself, you need to watch it below.
We'll continue to keep you updated as more information is released for this project. Hardcore Henry releases in theaters on April 8. For more information, you can visit the official website.
Your Daily Blend of Entertainment News