Valve's Vive VR Headset Will Be Free To Qualifying Developers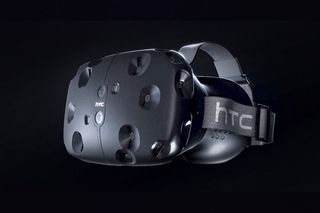 Valve and HTC are feeling awfully generous with their upcoming virtual reality headset, the Vive. They'll be handing out free development kits to a handful of qualified studios.
This week, the folks at Ars Technica sat down with Doug Lombardi, Valve's VP of marketing, who spilled the beans on the Vive's developer program. According to Lombardi, a limited number of development studios will receive two headsets, two controllers, and two base stations. And all of these goodies will cost less than anything off the Dollar Menu at McDonalds.
This maneuver is surprising for two reasons. First, manufactures don't typically give out free hardware. Oculus Rift dev kits cost about $350, and console kits can cost thousands of dollars (if not more). So, there must be something particularly special about the studios that receive these devices.
Second, the Vive will reportedly be more expensive than the Oculus Rift. Last week, HTC's Executive Director of Global Marketing, Jeff Gattis, spoke with Ars Technica about the device's pricing and admitted that the Vive might be a little more spendy.
Here's how Gattis put it:
If you'd like to get your hands on one of those freebie development kits, you'll need to be patient. HTC and Valve are working on a new website that will offer "more info and 'sign up' forms," but it won't launch until next week (hopefully).
However, if you miss the freebies, Vive development kits will still be available. You'll just need to crack open your piggy bank.
The fact that these VR devices will hit the market sometime this year is exciting. Virtual Reality technology has been stuck in a rut for decades, and even the most promising devices weren't particularly fun or user friendly. But now that the Vive and Rift are almost here, the video game industry could see some serious changes.
What about you? Are you going to buy an Oculus Rift or a Vive? Let us know in the comments.
Your Daily Blend of Entertainment News
Thank you for signing up to CinemaBlend. You will receive a verification email shortly.
There was a problem. Please refresh the page and try again.