Video Game Community Managers: It's Like Being On The Front-Line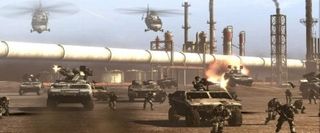 Oftentimes the voice between developers and gamers lies within a devout group of individuals who eat, live and breathe video games. They run out onto the battlefield known as message boards and social network apps. They dodge insults, watch for meme-mines, and prep for verbal artillery fire most of us would be too afraid to face head-on. These battle-hardened, troll-beating individuals are known as community managers. They have to deal with all the complaints, the technical issues and the suggestions pouring in from countless gamers.
A new article has surfaced over at GamaSutra detailing what it means to be a community manager in today's climate of video games. The job was adequately described by Insomniac Games vet, James Stevenson, as being on the front line. Saying…
The article contains interviews with a number of community managers, including CCP's Valerie Massey and her team of six dedicated managers. She's been on the job since 1998 and mentions that the hardest thing about policing the fine line between what gamers say and what developers hear (or vice versa) are the know-it-all blogs.
She also mentions that it's the job of community managers to "take the heat" and basically work as the "meat shields" that take all the indirect shots aimed at the game and the developers. MMOs seem to be the worst of the bunch, especially competitive MMOs, since the game is always-on and someone is always getting pwned one way or another and griping about it on the forums.
Some community managers seem to have taken a more active role in public relations, such as Infinity Ward's Robert Bowling or Treyarch's Josh Olin, relaying to the public what's going on and how things are being handled in the development camp.
You can check out the entire article detailing the grueling and rarely rewarding job of being a community manager over at GamaSutra.
Staff Writer at CinemaBlend.
Your Daily Blend of Entertainment News
Thank you for signing up to CinemaBlend. You will receive a verification email shortly.
There was a problem. Please refresh the page and try again.