Voldemort And Harry Face Off In Lego Harry Potter: Years 5-7 Next Year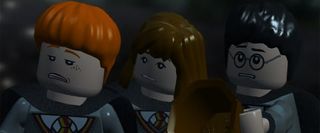 Warner Bros. Interactive Entertainment announced a follow-up to Lego Harry Potter: Years 1-4. Lego Harry Potter: Years 1-4: Years 5-7 will take players through the last three books in the series.
"In LEGO Harry Potter: Years 5-7, we are giving gamers a truly epic conclusion to the most successful movie franchise in history with delightful gameplay for fans of all ages," said Tom Stone, TT Games managing director. "We have built upon the first game and are giving fans even more magical abilities, puzzle solving and exploration, in addition to our distinctive brand of hilarious LEGO humor and charm."
Years 5-7 will introduce several new locations, including Grimmauld Place, the Ministry of Magic and Godric's Hallow. The new spells Harry learns will come in handy against enemies both familiar and unfamiliar. The game will culminate with a final confrontation against Lord Voldemort.
TT Games is preparing Years 5-7 for a holiday 2011 release. It will appear on the Xbox 360, PS3, PSP, NGP, Wii, DS, 3DS, and PC.
Staff Writer at CinemaBlend.
Your Daily Blend of Entertainment News
Thank you for signing up to CinemaBlend. You will receive a verification email shortly.
There was a problem. Please refresh the page and try again.