WWE 2K14 Gameplay Trailer Reveals Box Art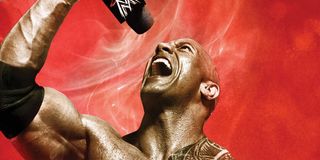 2K Games has released the first gameplay trailer for WWE 2K14, their first entry in the pro wrestling game series. In addition to showing off some footage from the game, it confirms that the Rock will be the cover athlete.
"I am exceptionally grateful to be chosen for the cover of WWE 2K14 and serve as the first cover Superstar under 2K's leadership," said The Rock. "I want the cover of WWE 2K14 to electrify the people. I want the artwork to stand out and set a new standard for all WWE video games from 2K, both today and in the future."
THQ, the publisher of previous WWE games, sold the license to create WWE video games to 2K earlier this year. It's one of many assets THQ was forced to sell off after it went bankrupt late last year. At the time, 2K said that they would be hiring many former THQ employees to work on the game.
Fans will have a hand in designed the alternate cover for the game. 2K has launched a cover artwork contest through this website. Artists can download official WWE assets and design their own box art for the game. They must then post them on Twitter with the hashtag #WWE2K14Cover. The winning cover will be included inside retail copies of the game. The contest will run until July 23rd. While it's restricted to gamers in the United States, 2K says that they're planning a similar contest in Europe as well.
The first gameplay footage from WWE 2K14 confirms that the roster will contain the usual mix of current superstars and WWE Legends. Contemporary stars The Rock and John Cena are joined by Shawn Michaels and Stone Cold Steve Austin. Arguably the best part of the trailer is Macho Man Randy Savage's brief appearance. Macho Man died a couple years ago from a heart attack.
WWE 2K14 is in development at Yukes, the same studio that handled earlier WWE games. They're preparing 2K14 for release on PS3 and Xbox 360. The game will debut on October 29th in North America and on November 1st throughout the rest of the world.
Image 1 of 3