Warhammer 40K: Space Marine Demo Can Be Unlocked Early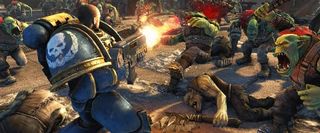 THQ announced today that they will be releasing a demo for third-person action game Warhammer 40,000: Space Marine next week. However, there's a couple ways to get your hands on the demo early.
The demo will be released to the general public on August 23rd for Windows and Xbox 360. The PS3 version will be available the following day. That'll give you a couple weeks to try out the game.
If you pre-ordered the PC version of Space Marine through Steam, you can get exclusive early access starting on August 18th. During that weekend, Steam will also hold a sale on a Warhammer 40K bundle. Sounds like a way to pick up the Dawn of War strategy games on the cheap.
Alternately, you can get the demo a day early by signing up for the Space Marine 'Honour Guard' community. Honour Guard members also get access to exclusive preview material like concept art, developer blogs, and behind-the-scenes videos. You can register for the Honour Guard here.
The Space Marine demo is split into two parts. In the first segment, the player must fight off an Ork horde outside a munitions factory. Players will get a chance to try out six different ranged and melee weapons, including the bolter and chainsword. The second part of the demo lets players use their Space Marine's Jump Pack. They'll soar above enemies and unleash hell on them.
Space Marine will arrive on the PS3, Xbox 360 and PC on September 6th in North America. The European launch is scheduled for the 9th.
Staff Writer at CinemaBlend.
Your Daily Blend of Entertainment News
Thank you for signing up to CinemaBlend. You will receive a verification email shortly.
There was a problem. Please refresh the page and try again.