Watch Conan O'Brien Visit A Korean Gaming Cafe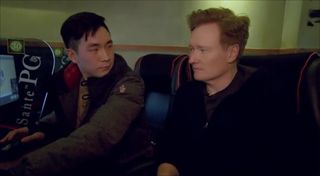 Conan O'Brien, the late night talk show host, recently traveled to South Korea for a variety of segments that aired during the show. One of the segments included Conan visiting a PC bang, better known as cyber-cafes here in America, where he got to test out some of the sweet life of South Korean gaming.
GameSpot did a recap of the segment, which included a little bit of StarCraft, some fast-paced first-person shooting action and some South Korean snacks. You can check out the video below from the Team CoCo website.
They start with the original StarCraft, which is not the sort of game that's newb-friendly. There are a lot of units to understand, a lot of tactics to master and a lot of nuance to the gameplay that makes it difficult for new players to pick up and play. Quite naturally Conan does not pick-up-and-play StarCraft due to its complexity. It's one of the most popular brands in South Korea, but it's not a game for everyone. The e-sports league surrounding StarCraft II is quite robust, even if it's not the easiest thing in the world to play or watch.
Conan doesn't actually play StarCraft but instead leaves it to his partner in crime,1J, to do all the heavy lifting while he quips about South Korean snacks that all appear to be based on seafood and soy sauce.
After going through several potentially tasty snacks, Conan decides to try his hand at a different game... Sudden Attack. This game is one of the most popular titles in South Korea alongside Counter-Strike and Crossfire. I've never been a big fan of Sudden Attack due to how crude the gameplay is and the lack of depth to the mechanics, but people who enjoy the fast-paced, run-and-gun, hip-style firing setup and easy-to-learn controls seem to enjoy it.
Conan doesn't do too bad in Sudden Attack, managing to get killed and kill a few opponents before succumbing to the oddities spawned from player boredom. J1 and Conan find themselves witnessing a fake Teletubby and a few other characters dancing and floating around. It's not uncommon to see strange stuff like that take place in games where the gameplay itself is just mediocre and it's sometimes more fun to goof off than play straight.
It's a little unfortunate they didn't explore more of the PC bang, but it was kind of funny how Conan asked how long J1 spent in the cafe, and after finding out the young gamer got drunk and played for 14 hours, Conan noted that the plastic chairs were probably there so people could just take a leak in the chair instead of heading to the bathroom.
This episode wasn't quite as involved as other Clueless Gamer segments given that they didn't play Sudden Attack for very long given how long it took to sign-up to play the game, but it was still fairly hilarious.
Staff Writer at CinemaBlend.
Your Daily Blend of Entertainment News
Thank you for signing up to CinemaBlend. You will receive a verification email shortly.
There was a problem. Please refresh the page and try again.