Crossfire Halloween Update Includes New Maps, Weapons, Modes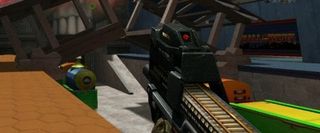 G4Box announced today that the free-to-play online shooter, Crossfire, just received a free update for Halloween featuring some spooky new maps, brand new weapons and a couple of new modes to round out the experience. Gamers can hop right into the action by grabbing the client for free.
As stated in the press release…
If any of those items seem awesome to you, then it would be wise to pick up them up ASAP because they will only be on sale for a limited time. Work fast! There's also the new Kriss Super V Liquid Metal SMG and Bushmaster ACR Rifle. You can test-drive these bad boys on the brand new Search-and-Destroy "Ankara" map.
In addition to this, Z8Games also announced that Crossfire now supports the super high resolution of 1680x1050. To top all of this off Z8 also announced that a new contest is underway to earn free Halloween items by playing Ghost Mode, Zombie Mode or Mutation Mode.
If you already have Crossfire the game will automatically update with the new content. For those of you who have never played the game, you can check it out for free over at the Official Website.
Staff Writer at CinemaBlend.
Your Daily Blend of Entertainment News
Thank you for signing up to CinemaBlend. You will receive a verification email shortly.
There was a problem. Please refresh the page and try again.