Watch Zachary Levi Play 20 Minutes Of Star Wars: Battlefront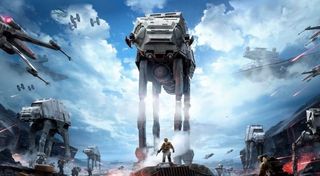 Nearly 20 minutes worth of gameplay from Star Wars: Battlefront has been put up for public consumption. The video features a look at the Rebels going head-to-head with the Empire in the Walker Assault mode and gives gamers an idea of what they can expect from DICE's interpretation of the Battlefront series.
You can check out the video below from IGN, where Zachery Levi and Zelda Williams – the daughter of the late Robin Williams – help offer some insight into the gameplay experience.
The video only actually runs up until the 20 minute mark despite being 40 minutes long. The other 20 minutes are just a blank, black screen.
Anyway, a lot of what's mentioned in the video from community manager Mathew Everett is what was discussed in the recent blog post over on the Star Wars: Battlefront website recently.
It's reiterated that Y-Wings cannot be piloted but are call-ins. It's also mentioned that during the Walker Assault on Hoth that vehicles are acquired through power-ups as opposed to players being able to run into a hangar and hop inside like in Pandemic's Star Wars: Battlefront games or what Free Radical had planned for Star Wars: Battlefront 3.
The comment section in the YouTube page has the typical fanboy praise, the typical trolls and... strangely it features a lot of sensible people who have expressed disappointment in the game so far.
Their major criticism of DICE's Star Wars: Battlefront is that 11 years after the release of Pandemic's Star Wars: Battlefront this new game for the eighth-gen consoles has far fewer features than the one from over a decade ago. It's a fair complaint to make. Pandemic's games were made for consoles from two generations ago. The original game from back then featured 16-players on the PS2 and Xbox and up to 64 players on PC (although technically this could be extended even further with mods).
Many of the negative criticisms about the game is that while the graphics look good it's missing a lot of the core features from the first two games. There are also some understandable criticisms about the stages being kind of small and linear.
It is true that this Walker Assault rendition of Hoth is pretty small, but we don't know if they have a different rendition of the map. In Star Wars: Battlefront 2 the Hoth map was huge. In fact, it had three distinct segments, and easily supported up to 64 players with room to spare.
It's easy to see how gamers are drawing comparisons to what Pandemic accomplished on hardware that originally came out nearly 15 years ago, and seeing how they're getting fewer features in this new game made for today's consoles. That's not to mention the lack of space battles, fewer space ships, fewer operable vehicles and not as many maps.
Hopefully DICE has some special tricks up their sleeve for Star Wars: Battlefront because right now the game has potential but seems to lack a lot of core features that were present in games made a decade ago.
Star Wars: Battlefront is due for release on November 17th, 2015 for the PS4, Xbox One and PC.
Your Daily Blend of Entertainment News
Staff Writer at CinemaBlend.