What Games Are On GOG.com?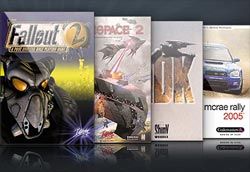 Good Old Games, the new games service from CD Projekt (The Witcher), is now in beta and Blend Games was fortunate enough to get an invite. As you may know, GOG sells classic games from the nineties for six to ten bucks with no copy protection - but which games?
No word on when GOG will be open to the general public. However, for your edification, here's a list of the games GOG currently offers along with their prices. As noted on the list, a couple of the games aren't available yet but will be soon.
1nsane - $9.99
Colin McRae Rally 2005 - $9.99
Conquest of the New World - $5.99
Descent + Descent 2 - $5.99
Descent 3 + Expansion - $5.99
Die by the Sword + Expansion - $5.99
Earthworm Jim 1 + 2 - $5.99 (coming soon)
Earthworm Jim 3D - $5.99
Evolva - $5.99
F/A-18E Super Hornet - $5.99
Fallout - $5.99
Fallout 2 - $5.99
Fallout Tactics - $5.99
Freespace + Expansion - $5.99
Freespace 2 - $5.99
Giants: Citizen Kabuto - $5.99
Hostile Waters: Antaeus Rising - $5.99
I.G.I. 2: Covert Strike - $9.99
Invictus: In the Shadow of Olympus - $5.99
Jagged Alliance 2: Unfinished Business - $5.99
Kingdom: The Far Reaches - $5.99 (coming soon)
Kingpin: Life of Crime - $5.99
Lionheart: Legacy of the Crusader - $5.99
M.A.X. + M.A.X. 2 - $5.99
MDK - $5.99
MDK 2 - $5.99
Messiah - $5.99
Operation Flashpoint GOTY - $9.99 (coming soon)
Original War - $5.99
Perimeter - $9.99
Redneck Rampage Collection - $5.99
Sacrifice - $5.99
Second Sight - $9.99 (coming soon)
Shattered Steel - $5.99
Shogo: Mobile Armor Division - $5.99
Soldiers: Heroes of World War II - $9.99
Stonekeep - $5.99
Toca Race Driver 3 - $9.99 (coming soon)
The nice thing is that when you buy these games and download them, you actually own them. You can install/reinstall them as many times as you want and you won't need an Internet connection while playing them. All of the games are compatible with Windows XP and Vista and you'll get extras with each purchase. For example, Redneck Rampage comes with a manual (presumably in PDF) and the game's full soundtrack in MP3's.
From the looks of things, the publisher roster for GOG is limited to Interplay and Codemasters currently. CD Projekt told gamesindustry.biz last week that some publishers are still scared to go DRM-free. We'll see if those companies overcome their fears in the future, especially with all of the backlash EA experienced over Spore's copy-protection. GOG would be a great home for all of LucasArts' old adventure games.
Staff Writer at CinemaBlend.
Your Daily Blend of Entertainment News
Thank you for signing up to CinemaBlend. You will receive a verification email shortly.
There was a problem. Please refresh the page and try again.