Why Bethesda Kept Fallout 4 A Secret For So Long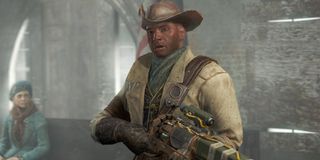 Bethesda waited until June to even confirm that Fallout 4 existed. In a new interview, the developer explained why they waited so long to announce the post-apocalyptic RPG.
Fallout 4 was announced just a few months before the game's scheduled launch. Pete Hines, PR head for the studio, told IGN that Fallout 4 game director Todd Howard was instrumental in this decision:
Hines added that they knew the game was highly anticipated thanks to the success of Bethesda Game Studios' Fallout 3 and Skyrim. The buzz for Fallout 4, they reasoned, was so massive that they wouldn't need a year or more to market the game.
There certainly was a huge amount of hunger for Fallout 4 over the past few years in spite of any official announcements. You can see it in how easily people were duped by hoaxes related to the game. People were so amped up to find out more about the game that they jumped at every potential clue, no matter how implausible.
I wish Bethesda had been quicker to call out some of these hoaxes but that's really the only thing they should've done differently about Fallout 4. I don't think a teaser trailer a year or two ago with nothing but a logo and some old-timey music would've made much of a difference. It's hard to imagine fans being any more excited for the game than they already were during that period.
Bethesda ultimately revealed Fallout 4 with a gameplay trailer in early June. They then followed up on that announcement with a lengthy gameplay demo during their E3 Showcase. It was a savvy move on Bethesda's part. The promise of Fallout 4 during the Showcase led to a lot more viewers, who then stuck around to watch Bethesda's other announcements during the show including DOOM and Dishonored 2.
Fallout 4 will let players travel to the Commonwealth, the post-apocalyptic remains of Massachusetts. The new features of the game include weapon customization as well as base building. PS4, Xbox One and PC gamers can get their hands on the RPG starting on November 10th.
Staff Writer at CinemaBlend.
Your Daily Blend of Entertainment News
Thank you for signing up to CinemaBlend. You will receive a verification email shortly.
There was a problem. Please refresh the page and try again.