Why Gamers Are Watching Fallout 4 Footage On A Porn Site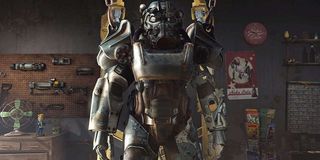 If you missed out on the leaked Fallout 4 Gamescom footage, there's still a chance you can clap your peepers on some extremely low quality glimpses at the upcoming title. All you have to do is visit a porn site.
As Kotaku is reporting, it looks like gamers will go to pretty impressive lengths in order to get their hype fix. Everyone's excited for Fallout 4 but, instead of waiting for Bethesda to release an official version of the game's latest footage, folks are turning to less conventional means of distribution.
The video in question was shown off behind closed doors at Gamescom last week. Folks were told not to record said video but, of course, some yahoos didn't listen. Following the convention, leaked footage of the Fallout 4 video started popping up on more traditional sites like YouTube, but were then quickly taken down. Uploaders then turned to file sharing sites, but that apparently wasn't ideal, either.
So what's a devious video leaker to do in this kind of situation? Turn to Pornhub, of course. Titled (and I can't believe I'm writing this in a games article) "Hidden camera shows audience teased by big butt man in tights live," you too can witness this poorly shot footage by simply going to a website that's typically used for videos where that title would at least make a little more sense. Seriously.
Mom: Son! What are you doing on that website?
Son: Nothing! I was just looking at game videos, I swear!
Mom: Where did we go wrong?!
I kid, of course. But still, unless anyone is willing to refresh my memory, I think this might be the first time leaked video game footage has been delivered to the masses in this particular format. And it's getting seen, too, with around 35,000 views as of this writing. If enough people keep pouring into the site, I bet there's a chance this Fallout 4 footage could be recognized as the breakout "amateur porn" video of 2015. Now that, I am positive, would be a first for the video games industry.
My recommendation, though, is that you simply hold tight and wait for Bethesda to dish out some legitimate footage. Anticipation is all part of the process and, trust me, it will look a million times better when the official version drops.
If, however, you're one of those people who prefers to go on a total media blackout before diving into a highly anticipated game, then you actually don't have all that much longer to wait before heading back into the vault. Look for Fallout 4 to arrive on PlayStation 4, Xbox One and PC on Nov. 11.
Your Daily Blend of Entertainment News
Staff Writer for CinemaBlend.