Why One Star Wars Episode 7 Star Was Fired From Dante's Inferno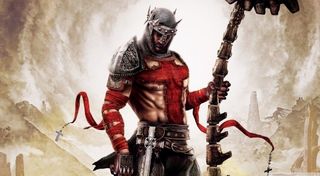 Star Wars Episode Episode VII: The Force Awakens is gearing up to be one of the biggest movie launches of all time. The actors are going around doing press for the film and answering questions and going on interviews. One actor, Oscar Isaac, explained how he was originally cast for Dante's Inferno the game but got fired.
Speaking with Birthmoviesdeath.com, Isaac was asked about some voiceover work, and he mentions he did some stuff for Disney Infinity and that he was fired from an AAA project and it turned out to be none other than Visceral Games' Dante's Inferno – based on Dante Alighieri's The Divine Comedy. Isaac said he was fired from the game, and when asked why, he answered candidly:
Beyond Oscar Isaac's brief mention that they "thought he was bad" there's no further details on what really went down that led to his departure.
The interviewer and Isaac both thrash Dante's Inferno as being terrible, even though the game has a 75 out of 100 rating on Metacritic, both by professionals and by users, and it had "solid performance" out of the starting gate on its first month as a new IP, as stated by EA's U.K., sales director to MCVUK. Back when the NPD was allowed to post actual figures for game sales, we also learned from a report on PlayStation Lifestyle that Dante's Inferno – across both the Xbox 360 and the PlayStation 3 – managed to move close to half a million copies on its first month out. Not bad for a new IP.
Over time, Dante's Inferno saturated into a comfortable role of having moved closed to 2 million SKUs across the Xbox 360 and PS3, according to rough estimates by VGChartz.
All of that is to say is that the hack-and-slash game isn't quite as bad as Isaac and BMD attempt to make it out to be.
In fact, Dante's Inferno's story was so gripping that Universal Studios was quick to pick up the movie rights. There was also a short film compilation put together based around the various layers of Hell depicted in the game by renown anime directors.
Realistically the only drawback to Dante's Inferno was that the gameplay wasn't quite up to par to the story... and oh boy was the story something. In a way, part of me thinks that maybe Oscar Isaac was just bummed he was fired from the role. There was a lot of over-the-top theatrics required for the roles in Dante's Inferno and Oscar Isaac comes across as more character actor than someone you could recognize just by voice alone. He definitely pulled off the stage theatrics well in Sucker Punch but it's a very different experience from the more gritty, and visceral portrayal of the unhinged and wildly escalated erraticism of Dante.
Over time Dante's Inferno has become one of those titles where people love it for the story but recognize the gameplay doesn't quite live up to the story's potential. It wasn't bad but it was always living in the shadow of God of War 3. It's a little bit of the same thing with Castlevania: Lords of Shadow, which made its mark with its Gothic aesthetics and dark story as opposed to doing anything original with the gameplay.
Even still, Oscar Isaac has little to fret over given that despite being fired from Visceral Games' hack-and-slash horror tale of sin and redemption, he managed an even bigger role in J.J. Abrams' Star Wars Episode VII: The Force Awakens.
Staff Writer at CinemaBlend.