God Of War 3 Remaster Pre-order Unlocks PS Now Rentals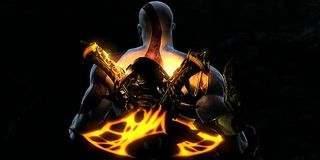 Fans of bald dudes with really bad anger control issues are likely looking forward to the impending launch of God of War III Remastered on the PlayStation 4. But just in case Kratos' whirlwind of fury isn't enough to get you excited to pre-order the game early, Santa Monica Studio is now offering an exclusive theme and PlayStation Now rentals to sweeten the pot.
This promotion is a win-win for Sony and gamers who have missed out on the action-packed God of War series up to this point. Simply by pre-ordering the upcoming remaster of God of War III, you'll unlock 90-day rentals of the original God of War and God of War II through PlayStation Now.
Since the remaster doesn't arrive until July 14, that gives you about two month to play through streaming versions of the first two games before taking the fight to Olympus in God of War III. According to a recent post on the PlayStation Blog, however, you'll need to pre-order the game digitally to take advantage of this particular offer. If I'm following this correctly, all you need to do is pre-order God of War III Remaster through PlayStation Network and, come May 26, your rentals will be made available.
As a reminder of what you have to look forward to, here's a 10 minute video showing off Kratos and his disagreement with the god of the underworld, Hades. Let's just say that they skip right past using their words and fall back on more primal means of communication.
Pre-ordering GoWIIIR digitally will also grant you access to an exclusive PS4 theme called "God of War – Fall of Olympus." Just like with the PS Now rentals, the theme will become available as of May 26 if you pre-order digitally. Unlike the rentals, though, it sounds like physical pre-orders will get their hands on the dynamic theme once the game launches this July.
Santa Monica Studio Producer Ariel Lawrence also mentions in the announcement that GoWIIIR will boast—along with the standard spruced up graphics—a new photo mode that will allow you to capture Kratos and his victims in all their gory glory. That should make for some interesting uploads with the PS4's Share button.
"It's been 10 years since Kratos took the throne as the God of War," Lawrence continues. "With God of War III Remaster on the horizon, we are eagerly looking forward to reliving the legend and we hope you are too."
We'll likely hear/see more about GoWIIIR at E3 in a couple of weeks, so stay tuned for more details.
Your Daily Blend of Entertainment News
Staff Writer for CinemaBlend.