Why Target Removed GTA 5 From 300 Stores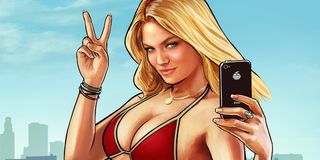 Grand Theft Auto V is flying off the shelves, but not in a good way. Target has decided to remove the game from 300 of its locations.
All of those 300 stores are located in Australia. Jim Cooper, the general manager of corporate affairs for Target Australia, said that they made the decision due to complaints.
"We've been speaking to many customers over recent days about the game, and there is a significant level of concern about the game's content. We've also had customer feedback in support of us selling the game, and we respect their perspective on the issue. However, we feel the decision to stop selling GTA 5 is in line with the majority view of our customers."
Those sex scenes weren't the issue. Instead, customers took exception with the game's "depictions of violence against women." These complaints seem to stem from a Change.org petition that started last week.
"This game means that after various sex acts, players are given options to kill women by punching her unconscious, killing with a machete, bat or guns to get their money returned," the petition says. "Please Target – we appeal to you as women survivors of violence, including women who experienced violence in the sex industry, to immediately withdraw Grand Theft Auto V from sale."
The writers offered up this video as a demonstration of their point:
The petition goes on to say that GTA 5 teaches "yet another generation of boys to tolerate violence against women" while spreading the belief that "certain women exist as scapegoats for male violence."
This appeal to Target found an audience. Since being created on November 29th, it attracted over 43,000 signatures. More importantly, the petition got the company's attention.
Australia's classification board rated GTA 5 R18+, which means that only customers over 18 years old can buy it. Though Target stopped selling this game, they intend to keep selling other R18+ games as well as movies.
"While these products often contain imagery that some customers find offensive, in the vast majority of cases, we believe they are appropriate products for us to sell to adult customers. However, in the case of GTA5, we have listened to the strong feedback from customers that this is not a product they want us to sell."
Australian gamers looking to buy GTA 5 can still find it elsewhere However, some are upset by Target's capitulation and feel that it may inspire other companies to stop selling the game as well. They've created a counter-petition to prevent that from happening.
"A game made for adults is being taken off the shelves by Target following of a bunch of misinformed feminists that made a petition because it apparentply encourages players to cause violence against women. I fear the other retailers will follow this trend, soon this game won't be sold anywhere in Australia"
"The R18+ rating is there for a reason! This game may allow you you to kill, hurt, bash and shoot anyone not just females and this game should be on the shelves all over the country. It's made for adults not children, we have the right to buy games despite their content."
It's a bit strange to see all this drama about a year-old game. The recent PS4 and Xbox One re-release is presumably what put GTA 5 back on everyone's radar, though.
Your Daily Blend of Entertainment News
Staff Writer at CinemaBlend.
Your Daily Blend of Entertainment News
Thank you for signing up to CinemaBlend. You will receive a verification email shortly.
There was a problem. Please refresh the page and try again.