GTA 5 Xbox One, PS4 Launch Trailer Is Live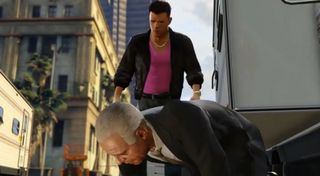 The time is drawing near as gamers will have to test the mettle of their wallet's capacity and see how many top-tier games they'll be able to buy this holiday season before the dollar count hits zero and stays there for a while. One of the games that are aimed to make your wallet lose some weight is Rockstar Games' Xbox One and PS4 release of Grand Theft Auto V. To help remind a few gamers about what's to come, they released a launch trailer with some sleek clips of the new and improved visuals on display.
The trailer showcases a lot of what we've already come to expect from the raunchy series, only this time the focus is on the upgraded textures, the improved geometry, the far-improved resolution and the upgraded lighting and shader entities.
The trailer also poses a very interesting proposition for holiday shoppers: will they cough up the $60 for a re-release of a year-old title from seventh-gen or will they opt for something newer and exciting?
Last year when the game code leaked showing structural calls for the PS4, there was a striking rumbling within the core community about "double dipping". The idea was that the game was good enough that a lot of gamers would be interested in picking up the definitive edition if it became available within a reasonable time frame.
Of course, GTA V did not release during the holiday season for the PS4, Xbox One or PC. The holiday window was still too close to the September release that allowed Rockstar to own the sales quarter. Of course, after a year of having to wait; after a year of other games coming out and a ton of other big releases on the horizon; after all this time has passed, will gamers still want to plop down $60 on this year-old title?
Will shinier graphics, an amped-up resolution and stable frame-rates change the minds of gamers who already purchased the game on the Xbox 360 or PS3 to re-buy the game for the PS4 or Xbox One? We're literally going to see if the "double dip" maxim that gamers were passing around when all those leaks were happening last year.
I think given some of the competition dropping throughout November will really put gamers in an interesting position as they'll have to pick and choose what best suits their play-habits. We have Call of Duty: Advanced Warfare out and about on store shelves to satisfy the first-person shooting fans, along with Halo: The Master Chief Collection. We have Assassin's Creed Unity and Far Cry 4 for gamers who enjoy open-world adventure titles. And we have Super Smash Bros. dropping at the end of November, which is expected to move just as many software units as Wii U hardware units. Where exactly does the re-release of GTA V fit in amongst all those big-name titles? I guess we'll find out on November 18th.
Need more info? Feel free to pay a visit to the official website.
Your Daily Blend of Entertainment News
Staff Writer at CinemaBlend.
Your Daily Blend of Entertainment News
Thank you for signing up to CinemaBlend. You will receive a verification email shortly.
There was a problem. Please refresh the page and try again.