The Witcher 3 Resolution, FPS On PS4, Xbox One Aren't Optimized Yet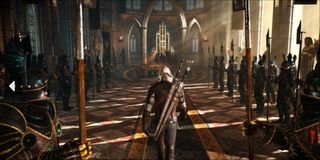 We've heard a lot about the possible frame-rate and resolution specifications for The Witcher 3 running on the Xbox One and PS4. Many months ago rumors indicated that something below full HD for both consoles, while recent reports from CD Projekt RED keeping things a bit diplomatic until the game's release draws closer.
GameSpot managed to get in word with marketing manager Tomasz Tinc, who explained that the previous mentions about the resolution and frame-rate specifications for the home consoles wasn't entirely in stone, since the game is continually being optimized and upgraded before release.
As far as where the developers stand with the output performance of The Witcher 3 on the PS4 and Xbox One, Tinc told GameSpot that...
Previously it was originally mentioned by insider Shinobi that The Witcher 3 was running 900p at 30fps on the PlayStation 4 and 720p at 30fps on the Xbox One. Later on, during June, following a big showing at E3, CD Projekt RED's executive producer John Mamais told Eurogamer that they managed to get the game to hit 900p on the Xbox One and that they were working hard to achieve native 1080p at full HD.
GameSpot notes that in an interview with Worlds Factory, VFX artist Jose Teixeira had mentioned that hitting full HD may not be possible even though they had managed to get to 900p on both home consoles, saying...
As it had been confirmed previously, all members of CD Projekt RED have at least confirmed that they will be stabilizing the gameplay at 30 frames per second.
It was highly unlikely that a game as visually demanding and graphically dense as The Witcher 3 would be able to hit 1080p at 60fps, but if they do manage to get to 900p and 30fps it's at least a step up for the Xbox One, given that Watch Dogs ran at 900p and 30fps but didn't look anywhere near as good as The Witcher 3.
However, don't be shocked or surprised if Microsoft sends over some engineers to CD Projekt RED's camp to give the game a final resolution boost before the game drops in February of next year. Of course, this is assuming that CD Projekt RED can't hit 1080p all on their own. As we all know, Microsoft isn't averse to helping out third-parties achieve some form of parity for multiplatform games on the Xbox One, even if it comes at the cost of some frame-rate stability, which is what happened in the case of Diablo III: Ultimate Evil Edition.
Staff Writer at CinemaBlend.
Your Daily Blend of Entertainment News
Thank you for signing up to CinemaBlend. You will receive a verification email shortly.
There was a problem. Please refresh the page and try again.