Wolf Among Us Episode 5 Launches This Week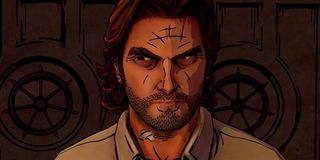 Telltale Games is about to end the first season of adventure game The Wolf Among Us. The fifth and final episode, "Cry Wolf," will launch on all platforms next week.
The Wolf Among Us stars Bigby Wolf, sheriff of a group of fairy tale characters who resettled in New York City. Over the course of the season, he's been trying to solve a mysterious string of murders within the secretive community.
A focal point of the story has been Bigby's struggle with his former identity as the Big Bad Wolf. Throughout his investigation, he has to choose whether he's going to be a rational peacekeeper or a brutal tyrant. The threats and frustrations he encounters tempt him to revert to the beast he once was. This inner conflict should come to a head in the climax of this case.
While there is some light combat, most of the game consists of branching dialogues with witnesses or suspects. The challenges of the game are moral in nature, with players trying to find the lesser of two evils in each situation. If you're a fan of story-driven games like Telltale's other series The Walking Dead, I strongly recommend Wolf Among Us.
"Cry Wolf" will hit PC, Mac and PSN in North America on July 8th. Xbox Live and the European PSN will receive it the following day. iOS gamers can download the episode on the 10th.
The episode costs $4.99 to download. On PC and Mac, though, players have to buy the full season at once for $24.99. If you're new to the series, you should start with the first episode to get the full impact of the story. Just as importantly, you'll get to see your choices affect the events of later episodes.
Telltale hasn't said whether there's going to be a second season of Wolf Among Us. It's a prequel to the comic book series Fable and I wonder if that paints them into a corner. There are some firm limits on what Telltale can do to these characters without screwing with the story of the comics. Maybe they could get around those limitations by switching to different characters or a different time period.
Even if Wolf Among Us does get a second season, it may take awhile for Telltale to actually make it. They've got a lot on their plate, including Game of Thrones and Tales from the Borderlands. A third season of the Walking Dead seems inevitable too. Those franchises are more high-profile than Wolf and could take higher priority in the future.
Your Daily Blend of Entertainment News
Staff Writer at CinemaBlend.
Your Daily Blend of Entertainment News
Thank you for signing up to CinemaBlend. You will receive a verification email shortly.
There was a problem. Please refresh the page and try again.