Wolfenstein 3D Turns 20 Years Old, Play It For Free Now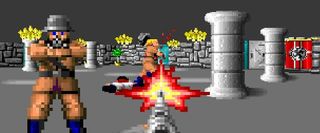 id Software's classic first-person shooter Wolfenstein 3D is now twenty years old. If you're the nostalgic type, note that there are a few ways to play the game either free or on the cheap.
Wolfenstein 3D was id's original FPS. Players take on the role of American soldier William "B.J." Blazkowicz during World War II. In the first episode of the game, he must escape from Castle Wolfenstein. In the next five episodes, he attacks Nazi bases throughout Europe. At one point you even get to fight Mecha-Hitler.
If you head over to wolfenstein.bethsoft.com, you can play a browser-based version of Wolf 3D. Also, Wolfenstein 3D Classic Platinum is now free to download through iTunes. The deal on Classic Platinum will only be in place for a limited time, though, so grab the game while you can.
PC gamers, meanwhile, can take advantage of a couple Wolfenstein-related deals. The Wolf Pack, a bundle including Wolf 3D, prequel Spear of Destiny, and the 2001 shooter Return to Castle Wolfenstein, is now only $3.75. The id Software Super Pack, featuring over 20 games from the developer, has been marked down to $49.99.
This wave of nostalgia makes me wish that a new Wolfenstein was in development. The most recent entry in the series, simply called Wolfenstein, was released on the Xbox 360, PS3 and PC in 2009. It was a bit of a mess; four different studios worked on the game and as a result was very inconsistent. The series' mixture of World War II and the supernatural is still appealing, though. id is no doubt very busy with Doom 4 at the moment but hopefully they make some time in their schedule to revisit Wolfenstein
Staff Writer at CinemaBlend.
Your Daily Blend of Entertainment News
Thank you for signing up to CinemaBlend. You will receive a verification email shortly.
There was a problem. Please refresh the page and try again.