World Of Warcraft Patch 6.0 Preloading Begins, Warlords Of Draenor System Requirements Revealed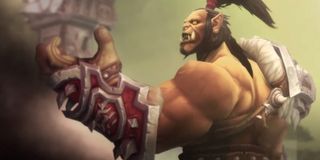 World of Warcraft players can now begin preparing for Warlords of Draenor's launch. Blizzard has announced the system requirements for the expansion pack and enabled preloading for Patch 6.0.2.
You should be alerted by Patch 6.0.2 as soon as you launch the Battle.net desktop app. You can choose to download it in the background while you're playing if you wish. The rate of the download can be altered in your Account Settings.
Patch 6.0.2 implements several big changes to the game, including character inventory, quest tracker and stats. Many class abilities are being revised as well. Players can participate in a new world event to retake the Blasted Lands from the Iron Horde - a battle which sets up the plot of the expansion pack.
Blizzard hasn't announced a release date for Patch 6.0.2 just yet. If you want to try the update out right now, you can play it on the public test realm. That's a whole other download for you to endure, though.
Patch 6.0.2 should arrive well in advance of Warlords of Draenor's November 13th launch date. The idea is to give players a chance to adjust to the new game mechanics before they have to tackle new zones. Plus, this learning process gives everyone something to do in the lazy pre-expansion days.
You may need to modify your computer for Warlords of Draenor in addition to your playstyle. Blizzard has revealed that the system requirements for Draenor are a notch above the requirements for prior expansion Mists of Pandaria. The enhanced character models are at least partly to blame for that. Here's what you'll need to run the game on PC or Mac:
Minimum System Requirements
PC:
Windows XP/Windows Vista/Windows7/Windows8 (latest Service Pack)
Intel Core2 Duo E6600 or AMD Phenom X3 8750
NVIDIA GeForce 8800 GT, ATI Radeon HD 4850 or Intel HD Graphics 3000
Mac:
OS X 10.8
Intel Core 2 Duo
NVIDIA GeForce 9600M GT or ATI Radeon HD 4850
PC/Mac:
35 GB available HD space
2 GB RAM
Broadband Internet connection
Keyboard/mouse
DVD-ROM drive
1024×768 minimum display resolution
Recommended Specifications
PC/Mac:
4 GB RAM
Multi-button mouse with scroll wheel
PC:
Windows 7/Windows 8 64-bit (latest Service Pack)
Intel Core i5 2400 or AMD FX-4100 or better
NVIDIA GeForce GTX 470, ATI Radeon HD 5870 or better
Mac:
OS X 10.9 (or latest version)
Intel Core i5 or better
NVIDIA GeForce GT 750M or ATI Radeon HD 6750M or better
The requirements are still pretty lax, though. No matter what Blizzard polishes or bolts onto WoW, the game's still nearly 10 years old. As long as you've got a semi-recent computer, the expansion should run just fine.
Staff Writer at CinemaBlend.
Your Daily Blend of Entertainment News
Thank you for signing up to CinemaBlend. You will receive a verification email shortly.
There was a problem. Please refresh the page and try again.