World of Warcraft: Warlords Of Draenor Beta Keys Given Out By Blizzard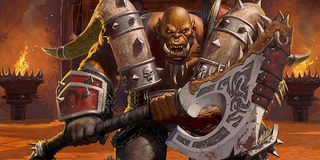 Blizzard is giving out the first beta keys for World of Warcraft: Warlords of Draenor to players this weekend. You probably won't get one, though.
To get one of these early keys, you'll need to be in Boston and attending PAX East. Blizzard is handing out them out to anyone who tries out Warlords of Draenor at the convention:
They added in a later tweet that the playable build of Draenor at PAX East features Frostfire Ridge. Frostfire, one of the new zones included in the expansion, is where Horde players start their journey. Gameplay footage from Frostfire and Alliance starter zone Shadowmoon Valley leaked in February.
Blizzard started the Warlords of Draenor alpha earlier in the month. This phase of the test is limited to employees of the company along with their friends and family. Most players won't get hands-on time with the expansion until the beta. The developers said last week that the alpha is still in an early stage so players could potentially wait months for the beta.
The most common way that WoW players get into beta tests is by opting in through their Battle.net account. Just make sure that the box next to "Warcraft" in your Beta Profile Settings is checked. You'll also have to run a Blizzard program that records your system's specs. Blizzard will send out waves of invites to opted-in players throughout the beta. Not everyone will necessarily receive an invite, though.
There's also a chance that you can guarantee beta access. Before the launch of prior expansion Mists of Pandaria, Blizzard began selling an Annual Pass to WoW. This 12-month subscription included a free copy of Diablo 3 and a confirmed beta invite. The Annual Pass is no longer on sale but Blizzard suggested in a survey that they might bring it back.
I wouldn't be surprised if they launch another Annual Pass. The first one was purchased by over a million players. That's a million players who are locked into paying monthly subscriptions for a year. Considering how many subscribers have left over the past few years, I'd think Blizzard would jump at the chance to stabilize their player base.
Warlords of Draenor has been available for pre-purchase through the Battle.net Shop since March. When Blizzard began selling the expansion, they said that it would arrive by December 20th.
Staff Writer at CinemaBlend.
Your Daily Blend of Entertainment News
Thank you for signing up to CinemaBlend. You will receive a verification email shortly.
There was a problem. Please refresh the page and try again.