BlizzCon 2011: Diablo III Is Free For World Of Warcraft Subscribers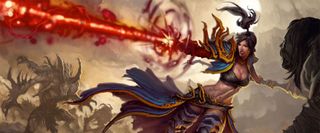 The opening ceremony of BlizzCon is now underway and Blizzard Entertainment has dropped one bomb so far. It seems that World of Warcraft subscribers will get Diablo III for free.
Blizzard president Mike Morhaime said that if you subscribe for 12 months, you'll get the game for free. They'll give you the full, digital version of D3 at launch. To be eligible, you need to have registered a copy of WoW on or before October 18th.
WoW players who take advantage of this deal will also get a free in-game mount. It's a winged horse called "Tyrael's Charger." Tyrael, if you're not aware, is an archangel from the Diablo universe. A picture of the mount, along with box art for Diablo III is below, courtesy of MMO Champion.
Additionally, you'll get a guaranteed spot in the beta test for the next World of Warcraft expansion. The expansion, entitled Mists of Pandaria, was just announced at the ceremony as well. More details will be posted on it soon.
WoW subscriptions have started to decline over the past year so this is an interesting way for Blizzard to try and hold onto these players. It ensures that any players who go for this deal will continue to have a WoW subscription as competing MMOs or Diablo III comes out.
Will Blizzard announce the release date of Diablo III during the convention as well? We shall see. They expect the game to launch in early 2012. The beta test is currently underway.
Image 1 of 3
Image 2 of 3
Image 3 of 3
Staff Writer at CinemaBlend.
Your Daily Blend of Entertainment News
Thank you for signing up to CinemaBlend. You will receive a verification email shortly.
There was a problem. Please refresh the page and try again.