World Of Warcraft: Warlords Of Draenor Beta Starts Today, Here's How To Get An Invite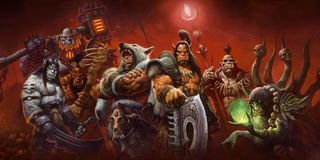 World of Warcraft: Warlords of Draenor's closed beta will be launching this afternoon, Blizzard announced today. They'll be sending out invitations to a select group of players.
The email sent to many World of Warcraft players in North America and Europe indicates that Warlords of Draenor's beta will start at 2 PM PDT today. These players are allowed to start downloading the files now in preparation.
"As a beta test participant, you'll experience the new content and features of Warlords of Draenor before the expansion is released," the email says. "Over the course of testing, you'll venture through the Dark Portal, establish your Garrison, and fight back against the Iron Horde!"
"While you prepare to embark on your journey, keep in mind that Warlords of Draenor is still in development, and additional content and features will be made available throughout the beta testing process. For an overview of what's currently available in this phase of beta testing, head to our beta forums."
There will be non-disclosure agreement for the beta. Testers will be free to share gameplay videos and screenshots. Be prepared for a flood of new information on the expansion from these early testers.
Beta invites will be given out to players who have opted into testing through their Battle.net account. Blizzard community manager Bashiok says that preference will be shown to long-time WoW players.
He added that there isn't necessarily a subscription requirement for the beta invites. In other words, someone who quit a year ago could theoretically get an invite. That's great news for all the bored players who decided to unsubscribe until Warlords of Draenor's launch. It's also a way for Blizzard to entice former players back into the game.
It's unclear whether you'll need an active subscription to actually play the beta, though. I remember that being the case for Cataclysm at least.
You can wait for the emailed beta invite or check your Battle.net account directly. The latter approach is better. Bashiok says that emails aren't sent out immediately after your account is flagged for beta access.
Blizzard handed out several beta keys at PAX East earlier in the year. Bashiok says that players with these keys won't be able to use them just yet, though.
Warlords of Draenor is expected to launch by December. Now that Blizzard's got the beta up and running, they've got a good chance at hitting that release window.
Staff Writer at CinemaBlend.
Your Daily Blend of Entertainment News
Thank you for signing up to CinemaBlend. You will receive a verification email shortly.
There was a problem. Please refresh the page and try again.