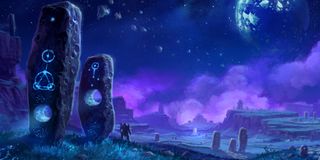 World Of Warcraft: Warlords Of Draenor will be launching worldwide later this week. Today Blizzard announced the exact times that the expansion pack will go live in each region.
Here's the full launch schedule revealed by Blizzard. If you don't see your time zone mentioned, use this online converter to figure it out:
North America (US) at 12:00 a.m. PST (1:00 a.m. Mountain, 2:00 a.m. CST, 3:00 a.m. EST) on Thursday, November 13
Oceanic will launch at the same time as the US.
Europe at 12:00 a.m. CET on Thursday, November 13
Korea at 12:00 a.m. KST on Tuesday, November 18
Taiwan at 12:00 a.m. CST on Tuesday, November 18
China at 12:00 a.m. CST on Tuesday, November 18
If you want to play right up until the moment the servers switch over to Warlords of Draenor, you can do so. You won't need to log out or download any extra files. Anyone who bought Warlords of Draenor and downloaded Patch 6.0 already should be good to go.
It'll probably play out similar to Mists of Pandaria's launch. At midnight, players received a notification in their chat log telling them to go to their faction's capital city. A new quest popped up in their log telling them the same. Warlords of Draenor will probably employ both methods to let players know when they can dive into the new content.
If you didn't buy a digital copy of the expansion, you can pick it up at midnight launch events across the country. The largest celebration will take place in Irvine, California. Over 100 developers from the Draenor team will be autographing game boxes or other Warcraft memorabilia at a special GameStop event. The full details on that celebration can be found here. Also, if you have any last-minute questions about Draenor, you can pose them to Blizzard on Wednesday, November 12th. Lead game designer Ion Hazzikostas, lead class designer Kris Zierhut and community manager Josh Allen will be answering questions live at Twitch.TV/WoW.
"There are two ways to submit questions," Allen said. "If you're using Twitter, simply tweet your question using the hashtag #WarlordsQA. You can also ask it as a reply to this forum thread; however, as we'd like to get to as many questions as possible, we will only consider questions using 40 words or less. Make them count! In order to be considered, your question must be submitted before 12:01 AM PST on Wednesday, November 12th."
The Q&A will run from 11 AM to 12 PM Pacific. Again, if you want to find out what time that is in your own neck of the woods, use the time zone converter mentioned above.
Warlords of Draenor is the fifth expansion pack to WoW. Players will visit the orc homeworld of Draenor in an alternate timeline and prevent the Iron Horde from invading Azeroth. The expansion allows players to advance to a new level cap of 100 and even get control of their own garrison.
Your Daily Blend of Entertainment News
Staff Writer at CinemaBlend.