XCOM: Enemy Unknown Release Date, Pre-Order Bonuses Announced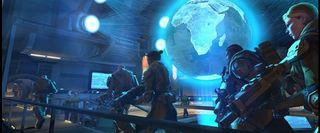 Today 2K Games revealed that XCOM: Enemy Unknown, Firaxis' take on the long-running strategy series, will be arriving this October. Pre-ordering the game through certain retailers will earn you bonus content for the game.
In Enemy Unknown, players take control of a secretive agency that protects Earth from alien invasion. You must assemble personnel, manage the agency's resources, and research alien technology to figure out a way to turn it against the invaders. You'll also control XCOM field agents in turn-based, isometric combat.
The pre-order bonus for the game is the Elite Soldier Pack. The Soldier Pack unlocks a new recruit: the trooper with the blonde flattop featured in much of the art from X-COM: UFO Defense. You'll also get several "deco" packs that upgrade the visuals of the different armor sets. Those of you obsessed with video game fashion will even be able to alter the colors for the armor.
PC gamers will also have the option of buying the special edition of Enemy Unknown. The $59.99 SE comes with several extras, including a poster, art book, and XCOM insignia patch. 2K is also throwing in digital bonuses like a desktop wallpaper, soundtrack and more.
Enemy Unknown will arrive on October 9th in North America and on October 12th. It's a crowded part of the year for releases, to be sure, but XCOM should be fine. The series is a cult classic and, besides, there aren't a whole lot of turn-based strategy games coming out this fall.
Staff Writer at CinemaBlend.
Your Daily Blend of Entertainment News
Thank you for signing up to CinemaBlend. You will receive a verification email shortly.
There was a problem. Please refresh the page and try again.