Xbox 360 Owners Can Download Dishonored For Free Now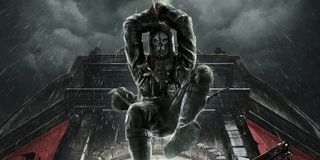 Xbox 360 owners have a new free game to grab. They can now download the stealth-action game Dishonored for no charge through Xbox Live.
Dishonored is set in the steampunk fantasy city of Dunwall. Bodyguard Corvo Attano is framed for murder and sentenced to death. He escapes from prison and sets out on a quest for revenge.
The game plays a little bit like a supernatural Deus Ex. The player decides how to complete each mission. They can be stealthy or aggressive, violent or pacifistic. Corvo has a range of gadgets, weapons and magical abilities at his disposal to make a wide range of strategies possible.
Dishonored was, in my opinion, the best game of 2012. There were some things to nitpick, like the morality system that effectively punished you for using violent strategies. However, if you haven't checked out the game yet, you really should do so. All you're sacrificing in this case is 4.3GB of hard drive space.
If you enjoy Dishonored's campaign, you can continue the adventure with three DLC packs. The Dunwall City Trials are standalone challenges testing players' stealth and combat skills. The Knife of Dunwall and Brigmore Witches are two halves of a brand-new campaign starring assassin Daud. Daud's story lets players use new weapons and abilities.
Any Xbox 360 owner with an Xbox Live Gold subscription can download the full game for free. They'll only have a limited time to do so, though. The game will only be available for free until August 31st. Once they've downloaded the game, though, it's permanently free on their account even if they let their Xbox Live Gold membership lapse.
Xbox One gamers still have two free games to download this month. The first is Crimson Dragon, a rail shooter with three-player co-op considered a spiritual successor to the Panzer Dragoon series. The other freebie is Strike Suit Zero, a space combat simulator. The difference between Xbox One and Xbox 360 freebies is that you need to maintain your Xbox Live Gold membership to keep your free XB1 titles.
These free games are offered as part of an ongoing program called Games with Gold. Microsoft introduced this feature about a year ago to make Gold membership more enticing. It's a more crucial perk of the service now that entertainment apps no longer require Gold. Xbox Live Gold members also get a rotating set of discounts on games and DLC called Deals with Gold.
Staff Writer at CinemaBlend.
Your Daily Blend of Entertainment News
Thank you for signing up to CinemaBlend. You will receive a verification email shortly.
There was a problem. Please refresh the page and try again.