Xbox Finally Responds To Uncharted 4's Early Positive Reviews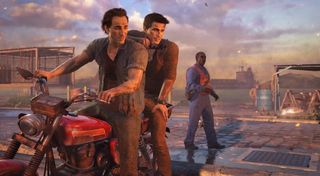 Who says there can't be a bit of friendliness on the battlefield of marketing and cutting edge technology? Phil Spencer, the head of the Xbox division, and Shuhei Yoshida, the president of worldwide studios at Sony, both exchanged some positive words on Twitter over Uncharted 4.
Gamespot did a quick write-up on the exchange that Spencer had with Yoshida, where the Spencer sent a congratulations to Naughty Dog and Sony for scoring some really top-notch review scores for the upcoming release of Uncharted 4. You can check out the Twitter comment below.
Shuhei Yoshida was quick to respond to Spencer's tweet, which garnered more than 800 retweets and more than 2,200 likes.
Yoshida kept it simple, thanking Spencer for the compliment and mentioning that he would see him at E3 next month.
A lot of gamers were feeling the love between the two console rivals. One of the comments on Twitter sarcastically quipped that it would be good fanboys were as civilized as Spencer and Yoshida are on Twitter.
Sony has definitely taken a lot of digs at Microsoft more than Microsoft has taken digs at Sony. The main difference is that Microsoft shot themselves in the foot back in 2013, announcing just about every policy under the sun that gamers hated, from a home console that sacrificed processing power in order to accommodate television viewing and streaming, as well as game policies centered around restrictive DRM and at one point a used game fee for those who wanted to share their games or play it on machines at someone else's house.
It didn't take a genius to figure out that trying to fragment the market with restrictive DRM policies, an always-on requirement and the Kinect 2.0 being a mandatory accessory rubbed just about every hardcore gamer the wrong way, costing Microsoft just about all of their goodwill throughout 2013. There was a sweeping landslide of sales in favor of Sony and the PS4 in result. The $500 price tag on the Xbox One didn't help any, either.
Since then, Spencer was put in charge after Don Mattrick took leave from Microsoft and headed off to Zynga. Spencer, did a complete 180 on a bunch of the Xbox One's policies and setup, making it a more gamer-friendly atmosphere, as well as removing the need for Kinect, removing the Kinect bundle, and dropping the price by $150.
Microsoft has still yet to catch up in monthly sales to the PS4, but they've done a marvelous job of turning around the mind-share thanks to features like the Xbox Games With Gold program and the highly praised backwards compatibility features in the Xbox One, something the PS4 is still missing outside of the very expensive and inconvenient PlayStation Now service.
At this juncture, Spencer is spending some time trying to bridge the fanboy communities, and even acknowledged that Xbox will open up cross-platform play for some games. Having the head of Xbox send Sony and Naughty Dog praise on the good reviews they've received for Uncharted 4 is just another notch in Spencer's new ecosystem for the Xbox brand. We'll see what Microsoft has in store at E3 and if Sony will be congratulating them on whatever it is they have to announce.
Your Daily Blend of Entertainment News
Staff Writer at CinemaBlend.