These Star Wars Games Are Now Backwards Compatible On The Xbox One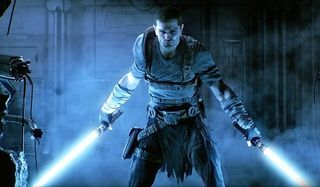 Continuing the deluge of new pertaining to the May the Fourth celebration, it looks like a pair of new (old) games are now available to play on the Xbox One through backwards compatibility.
Both Star Wars: The Fore Unleashed and Star Wars: The Force Unleashed 2 are now ready to play on the Xbox One, making them the latest games to be added to the console's growing lineup of backwards compatible games.
That's super good time for two reasons. For starters, as mentioned above (and as I'm sure you've heard a million times today through social media) today is Star Wars Day. Along with various promotions at retailers, food chains and the like, that's translated to a whole bunch of sweet gaming deals as of late.
Which brings us to our second reason for this latest tidbit being good news. Along with Steam's recently announced May the Fourth discounts, we revealed yesterday that Sony, Microsoft and GOG were getting in on the Star Wars action with discounts of their own. Both Xbox Live and GOG offered discounts on loads of games, while Sony put a bunch of Jedi-infused games and movies on discount.
Two of those games receiving deep discounts this week ($5) on the Xbox front are The Force Unleashed and The Force Unleashed II. That was great news for folks who wanted to play those games and still had an Xbox 360 lying around. But with today's announcement concerning backwards compatibility, that means that anyone with an Xbox One can play them, too. So if you wanted to relive these Star Wars games or perhaps play them for the first time, you can do so on both of Microsoft's home consoles. Also, if you owned digital copies of these games last generation, you can now download them onto your Xbox One at no additional cost.
Not the most subtle name, players take on the role of a character called Starkiller. He's Darth Vader's secret apprentice and, since there's a chance you'll be playing these games now that they're available on two Xbox consoles for dirt cheap, we'll let you just explore the narrative for yourself. The games' were pretty well received back in the day, with lots of fun abilities and Star Wars lore to dig into.
So, there you have it: Yet another reason to revisit that Xbox Live Star Wars sale that's currently active. If you have already played either The Force Unleashed or The Force Unleashed II and want to share your thoughts on the games, please do so in the comments section below. Let folks know if they should be sure to add these games to their digital collection.
Your Daily Blend of Entertainment News
Staff Writer for CinemaBlend.
Your Daily Blend of Entertainment News
Thank you for signing up to CinemaBlend. You will receive a verification email shortly.
There was a problem. Please refresh the page and try again.