New Uncharted 4 Trailer Takes A Closer Look At Nathan Drake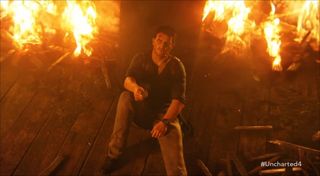 Sony has just a little over a month to go – maybe a month and a half? – before Uncharted 4 releases. So they're peppering the gaming community with tidbits of new info and developer diaries and promo trailers like the one they recently let loose featuring a closer look at the character Nathan Drake.
Gamespot posted up the 30 second bit, which features Nate in a rather life-threatening predicament. He still manages to find time to flip a coin and ruminate on the "Could haves", "Would haves" and "Should haves". You can check out the Uncharted 4 trailer below.
The coin toss takes viewers through a quick alternative to what Nate's life might have been had he given up all the risk taking and dangerous adventures that helped define the charismatic adventurer for the past decade.
We briefly see Nate churning through the paper as a pencil pusher or taking time away from the burdens of life to spend some time with Elena. Of course, all of that is thrown clean out the window when we see Nate back in the trenches of action with various clips from Uncharted 4's campaign peppered in between.
Visually the game looks great, especially on the close-ups. Story-wise the graphics actually play a part in the game insofar that they wanted to show the characters aging and developing over the years. We see Nate with more wrinkles and dealing with the effects of getting older. We see the strain that Nate and Elena have on their relationship in Uncharted 4 once Sam, Nate's brother, steps back into the picture.
Naughty Dog wanted to focus the story more on the responsibilities of each character and the maturity that comes along with that responsibility and how they deal with it. It's an interesting, dramatic mix of adventure, tons of action and a bit of comedy thrown in for good measure.
Naughty Dog has repeatedly stated that this will likely be the last Uncharted game, or at least the last game featuring Nate as the main character. I wouldn't be surprised if they return to the series in the near future where you take on the role of Nate and Elena's kid.
I would actually be pretty pumped for an Uncharted game where you have Nate in the mentor role and you play as his son or daughter going through all sorts of crazy adventures. I would probably imagine there's more comedy and parental tension to milk out of a scenario involving Nate and his daughter. From trying to protect her from following in his footsteps to dealing with his daughter getting older and wanting to date – the story kind of writes itself.
As for Uncharted 4, you can look to get your hands on the supposed final game starring Nathan Drake come May 10th. The game will release exclusively on the PlayStation 4.
Your Daily Blend of Entertainment News
Staff Writer at CinemaBlend.