Xbox One Digital TV Tuner Now Available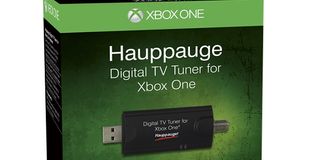 Your Xbox One's multimedia options just got a huge shot in the arm courtesy of a spiffy new digital TV tuner from Hauppauge. In short, your game console can now basically be turned into a DVR, all for the cost of a single AAA game.
As the news post (opens in new tab) is quick to point out over on the official Xbox site, the One already has a wide variety of options for folks who want to stream video content, including the recently introduced Sling TV app, as well as modern staples like HBO Go, Netflix, Hulu, Crunchyroll and more.
With the TV tuner, though, now you'll be able to "access broadcast networks available in your area, subscription free and, in true Xbox One fashion, without having to worry about switching inputs between your games and TV."
I've always gotten a chuckle out of how every piece of PR that comes through my inbox does not refer to the Xbox One as simply, "Xbox One," but rather, "Xbox One, the all in one games and entertainment system." With this latest add-on dongle for the system, though, the Xbox One is really living up to that claim. With it, you can basically boot up your console in order to do the vast majority of things you could ever want to do with a television, no longer needing to switch inputs to go between live TV and whatever else you're doing on your Xbox One.
This being the modern age of technology and all, you better believe it comes with some added bells and whistles, too.
"With the Hauppauge TV Tuner for Xbox One and an HDTV antenna, Xbox One owners can look forward to a variety of useful features, such as the ability to pause up to 30 minutes of live TV, watch TV on the right side of the screen while playing games with Snap, and navigate channels using Kinect voice controls," reads the announcement. "Additionally, users can stream over-the-air TV to other devices within the home using the Xbox app on Windows 10 devices or the Xbox One SmartGlass app on Windows, Windows Phone, iOS and Android, even while someone else is playing a game on the Xbox One."
Wanting to catch the latest episode of The Flash but your sibling/spouse/etc. is too busy playing The Witcher? Problem solved. Or maybe you want to watch said superhero drama while playing the latest game yourself? You can do that now, at the same time.
The tuner is being made available starting today in two packages. One includes the tuner and a Mohu Leaf 50 antenna, all for 100 bucks. If you simply want to grab the tuner on its own, that'll cost you $59.99. For additional questions, that link to the original news post (opens in new tab) contains all sorts of helpful links for checking what local channels are available in your area and how to choose the right HDTV antenna for your setup.
Staff Writer for CinemaBlend.
Your Daily Blend of Entertainment News
Thank you for signing up to CinemaBlend. You will receive a verification email shortly.
There was a problem. Please refresh the page and try again.