Xbox One Japanese Exclusives Will Arrive Close To Japanese Launch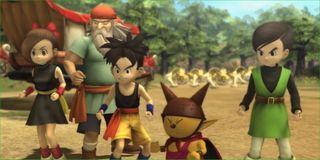 If you've been on the fence about the next-gen because you're rich, you like football, you watch TV on your TV and you couldn't give an amputated flying squirrel leg about DRM, then this bit of news might help sway you closer to the side of the Xbox One, assuming you also like Japanese exclusives filling out your console's library.
I find it hard to believe in this day and age, but Japanese console exclusives are actually a rarity these days. The landscape of consoles has changed so much that it's now big news when a console actually gets an exclusive and it's even bigger news (hence this article) when that exclusive (or exclusives) happen to be made by the founding fathers of console gaming.
Anyway, Gematsu rolled out a quote from Microsoft VP Phil Spencer from an interview he had with Famitsu, where there was no wishy-washiness or PR double speak. The executive had a clear and concise message to share, noting that...
If you're hoping that Mistwalker Studios would be returning to fray to offer up more iconic, legendary JRPGs like they did with the launch of the Xbox 360, ushering in the timeless classics Blue Dragon and, one of my favorites, Lost Odyssey (and seriously, Nobuo Uematsu just put on a composition clinic with the soundtrack to that game), think again.
According to Gematsu, while Spencer was pleased with the contributions from Mistwalker back in the day, Microsoft is looking for new blood to help flesh out the launch line-up for the Xbox One when it arrives in Japan sometime in 2014. As many of you already know, Japan is not one of the 13 launch territories for the Xbox One when it arrives this fall.
Amidst all the PR troubles and hardships that rocked the public's perception of the Xbox One since its initial reveal on May 21st earlier this year, Microsoft is still trying to truck on as if they have a fighting chance against the Wii U and PS4. Truck on Microsoft, truck on!
While Nintendo is still in the lead with more than 3.3 million SKUs established as their install base, Sony is already gauged to surpass half of that in pre-orders alone. The Xbox One is supposedly trailing with only 700,000 pre-orders.
If Microsoft can secure some strong Japanese developer support maybe... just maybe, they might be able to turn around their awful perception in the Asian territories. The original Xbox was poorly received in Japan when it launched there and the Xbox 360 was received with even more hatred when it launched over there. If history shows signs of repeating itself, the Xbox One may be in a worse off position than its two predecessors, unless Microsoft can pull out a miracle.
The company has some games to showcase during the Tokyo Game Show this year with their Japanese Xbox One division, so at least they're trying.
But what sort of Japanese exclusives would you like to see on the Xbone?
Your Daily Blend of Entertainment News
Staff Writer at CinemaBlend.