Xbox One Launch Countries Don't Include Japan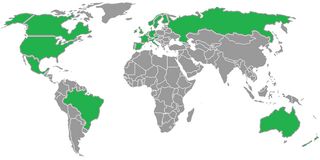 The Xbox One will launch in 21 countries in November. Interestingly, Japan isn't one of the countries that made the cut.
If you're not living in one of the launch countries, you won't be able to just import the console and its games. The official Xbox website notes that XB1 games are only to be activated and distributed in "specific geographic regions." In other words, they're region-locked.
The list of countries, below, will offer Xbox Live at launch. As previously announced, Xbox One requires you to log into Xbox Live at least once a day to play games. Therefore, if you're not in one of these countries, you won't be able to play XB1 games:
Australia
Austria
Belgium
Brazil
Canada
Denmark
Finland
France
Germany
Ireland
Italy
Mexico
Netherlands
New Zealand
Norway
Russia
Spain
Sweden
Switzerland
United Kingdom
United States
As you can see from the map (via AGB), the launch countries are limited to North America, western Europe and Australasia. The two exceptions are Russia and Brazil.
Japan's absence from the list isn't all that surprising, I suppose. The Xbox 360 sold only a fraction of what the PS3 and Wii sold in that country. From 2005 to 2011, only 1.5 million 360's were sold in Japan. The numbers were even worse than the original Xbox's. I'm sure Microsoft will eventually release the XB1 in Japan but I could see why, given the numbers, they don't feel it's a huge priority to cater to that market.
According to the Wall Street Journal, the XB1 will be rolled out in Asia in late 2014. Even then, the console will be available in only select countries: Taiwan, Hong Kong, Singapore, South Korea and India. These countries were deemed "high-growth markets" for gaming industry.
The Xbox One will debut in November for $499.99.
Staff Writer at CinemaBlend.
Your Daily Blend of Entertainment News
Thank you for signing up to CinemaBlend. You will receive a verification email shortly.
There was a problem. Please refresh the page and try again.