The Xbox One Preview Program Is Nearing Capacity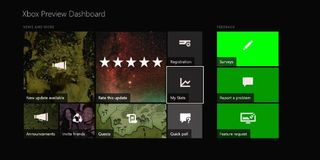 It's now going to be extremely difficult to get into the Xbox One Preview Program.
According to a report from GameSpot, Microsoft has made the decision to decrease the volume of invitations it has sent out to players looking to join the program, so if you were still wanting to get in on it, you might soon be out of luck.
The Xbox One Preview Program was designed for players to test out new features ahead of others when they're released for the public, and it's been a boon for those looking to see new dashboard features, functionality, and other tweaks before the general public.
It seems, however, that the program has reached what a Microsoft representative is calling a "near-capacity" level due to the "tremendous response" from Microsoft fans around the globe. Because of this, the team has taken measures to decrease the new sign-ups and invitations to make sure the experience is still a positive one for those involved and joining now.
"With that in mind, we are slowing the number of new people we are accepting to optimize for testing. We are thankful for the amount of interest we've received to date and look forward to sharing more details on preview opportunities soon."
This is definitely going to be disappointing news for some, especially since one of the biggest boons of the program was its ability to let players use the new backwards compability function for older Xbox 360 games. There's a very large list of them, and all Xbox One users will get a chance to use this feature in November, but it was an important functionality to let users try first, given the enormous backlog of 360 games so many of us still haven't had time to power through.
Personally I haven't had the chance to look at the Preview Program just yet, but I have to think it's probably rife with interesting ideas. I wish back when I was first introduced to the new Dashboard, or the "NXE," there were more beta testers since the layout came out and was interesting at first, but slowed down considerably it seemed, the more I used my Xbox 360. Hopefully that won't be the case with the powerful Xbox One of course, but I'll never be able to quite shake that concern since I dealt with it so often.
For those of you in the Preview Program already, I'd be interested in hearing how well the backwards compatibility actually words. Is it worth having? Or would you rather just use your old 360 to begin with given the fact that it's all emulation?
Your Daily Blend of Entertainment News
Thank you for signing up to CinemaBlend. You will receive a verification email shortly.
There was a problem. Please refresh the page and try again.