Yakuza: Dead Souls Characters Revealed In New Trailer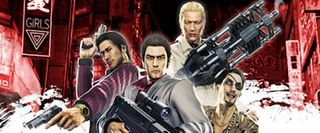 In PS3 exclusive Yakuza: Dead Souls, the undead have overrun Tokyo's red light district. It falls to four men to slay these bloodthirsty zombies. A new trailer introduces these characters.
Shun Akiyama and Kazuma Kiryu, playable characters in previous games, will return once again. Akiyama is armed with two handguns. Kiryu, meanwhile, uses a sniper rifle.
"Mad Dog" Goro Majima, a fan favorite, will be playable for the first time. Being a true zombie movie fan, he wields a shotgun. Ryuji Goda, believed dead after the events of Yakuza 2, is also introduced as a playable character. He's got maybe the best weapon of all: a prosthetic arm that turns into a gatling gun.
Dead Souls will hit North America and Europe in March.
Staff Writer at CinemaBlend.
Your Daily Blend of Entertainment News
Thank you for signing up to CinemaBlend. You will receive a verification email shortly.
There was a problem. Please refresh the page and try again.