You Need These Super Mario Fridge Magnets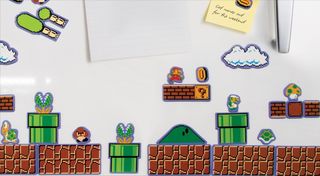 Merchoid has released some new magnets for refrigerators. They're based on Nintendo's popular Super Mario Bros series and allows you to bring out your inner interior decorator by decking out your fridge with the Mario-themed magnets. In fact, the magnets can be used in almost identical fashion to the way you play Super Mario Maker.
Gizmodo spotted the magnets from over on the official Merchoid website, where the package contains 80 different magnetic characters based on the Super Mario Bros.
It's not just characters, though. You can also arrange for the iconic green sewer pipes to be placed on your fridge along with some green hills, item boxes, coins, trees, and even mushrooms. Goombas are present along with the man-eating plants and turtles, and you can even deck out the fridge with some clouds.
Gizmodo jokes that maybe you didn't want to spend the money on a Wii U to play Super Mario Maker, but based on how you can arrange and setup the magnets, it really is like playing Super Mario Maker without the Wii U. You could theoretically buy multiple sets and then setup some rather complex levels to play through with the magnets. Yeah, it could be considered as a poor man's replacement for the video games, but on the bright side your parents can't get angry with you for sitting in front of the television all day long.
The only downside is that many people are reporting that Merchoid forces you to buy a set of 12 magnet packs. That's a little insane given that you already get 80 pieces in a single pack, so 12 seems like complete overkill for a standard household.
Of course, if you're planning on using the magnets as a way to help out with teaching in a classroom as a supplemental alternative to Super Mario Maker, the set of 12 would definitely make a lot of sense.
It would seem like a really cool recreational play kit for younger kids and helping them use their imaginations to build and construct makeshift levels. Then again, it's also not a bad way just to decorate your refrigerator with some cool Super Mario memorabilia.
A single pack will cost you $9.99, which is not too bad for getting 80 pieces in the package. At the moment Merchoid appears to be out of stock, but they mention that they will have more in stock very soon. You can also register via e-mail for alerts on when more of the Super Mario magnet sets will be made available.
If, however, you would rather just get the real deal, you can pick up Super Mario Maker for the Wii U right now from local retailers or from Nintendo's online eShop. The game lets you build and create levels and challenges not unlike what's possible with the magnetic set. The only difference is that you actually get to play with a controller and tinker around with the sizes and properties of the different characters featured within the game.
Nevertheless, if you want to get your hands on the magnetic set, you can do so by hitting up the Merchoid website.
Your Daily Blend of Entertainment News
Staff Writer at CinemaBlend.