Super Mario Maker Is Teaching Kids This Important Skill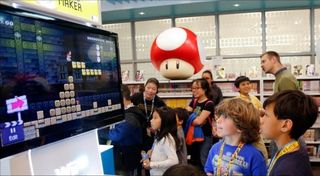 Nintendo took Super Mario Maker in a very different direction from what gamers might be used to: they put it into the realm of the education and learning system to help teach kids about level design concepts and the cohesive fundamentals to make fun games.
GameSpot did a thorough report on an event that took place at the San Francisco Public Library in San Francisco, California. The library regularly plays host to all sorts of edutainment events, and this particular time Nintendo took the spotlight by helping kids learn about coding and level design using Super Mario Maker.
For the most part, Nintendo wanted to teach young kids that it's not just about making solid source code when it comes to making video games, but it's also about being able to make a fun and entertaining game along with that solid source code.
The Big 'N' used Super Mario Maker as a vehicle for helping kids learn about conceptual level design by having them make levels in the tool and create problem solving solutions through the toolkit. Not only that, but Nintendo wanted to encourage fun and engagement, according to the article by Gamespot.
According to Nintendo representative Kit Ellis, he explained to GameSpot...
Millions of gamers have already found themselves thoroughly engorged on the fun-factors of Super Mario Maker, with the game having sold more than 3.34 million units throughout the last year, as reported by Tech Times, and gamers having created millions of levels for the game, it's no surprise that it would be used as a tool to help kids learn about game design.
This was a one-off event but GameSpot is reporting that Nintendo is surveying the feedback from the event and could pursue more educational endeavors for game design in the future. For now, it's being reported that Nintendo did this one particular event as a one-off for the kids.
It's always neat to see companies embrace the "edutainment" aspect of video games and help utilize their interactive nature to educate and inform.
Undoubtedly, many gamers probably think it's pretty cool that Super Mario Maker was used to help kids grow their interest in game design. Microsoft is pursuing a similar endeavor with Minecraft by making an education edition of the game and having it used throughout select schools nationwide.
Nintendo definitely has an opportunity to branch out and expand their market presence by dabbling in the education system. It can be exceptionally lucrative if their products become in-demand software for regular curriculum when it comes to software design concepts and game creation theory.
For now, some young kids had an opportunity to take a crash course on making levels in Super Mario Maker.
Your Daily Blend of Entertainment News
Staff Writer at CinemaBlend.
Your Daily Blend of Entertainment News
Thank you for signing up to CinemaBlend. You will receive a verification email shortly.
There was a problem. Please refresh the page and try again.