If You're A Gamer, You Need To Vacation At This Hotel At Least Once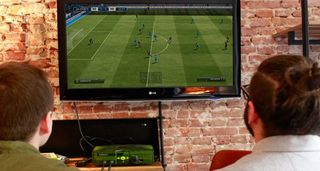 When the average person dreams up a vacation, it's typically somewhere isolated and tropical with red, orange and pink sunsets and breezy palm trees. But for gamers, their idea vacation might be a trip to this arcade hotel.
The Arcade Hotel in Amsterdam offers a unique vacation experience for those who hate going anywhere without their gaming gear. Almost everything in the hotel is completely centered around the theme of video games. For their opening night, they even had a gaming night where they projected video games on the hotel facade.
On the front page of the website, they describe the hotel as,
According to VG24/7, every room is set with a retro console and a collection of games to keep you entertained—and no, it won't cost anything extra. Food and drinks are also video-game themed and they have special themed events.
Why aren't there more hotels like this? I've come across a number of bars, two that come to mind are in Minneapolis and Las Vegas, that offer video gaming in a bar environment. You order a drink and play a game. Many of these themed bars also offer gaming competitions. And it's as if the Arcade Hotel is a culmination of those video game bars and a hotel to give you one entire vacation of video game frenzy.
Rooms can currently be booked, but space is limited. And rooms can run anywhere from $100 and up a night. But then you have to ask yourself, are you willing to pay a little extra to get in on the unique video game experience? Plus, think about the consoles and games that are included in each room. Then ask yourself, is it really that expensive?
Personally, I think the video game hotel idea is brilliant. Like the many video game bars across the United States, it was only a matter of time before someone hunkered down to create something else that was video game themed. Face it, the video game community is a great community to market to, because gamers are loyal and passionate about games—so anything game related is bound to catch on. Actually, a hotel by the name of Park Inn by Radisson Resorts in Orlando, Florida has a video game center set up for kids. It's comprised of a number of arcade games from shooters to racing games.
Small game rooms aren't uncommon in places like hotels and malls, so that's unsurprising. But at a hotel in the UK called Staybridge Suites, you can rent out an entire suite dedicated to gaming. It comes stocked with all of the latest in video gaming from current titles to new consoles. When the room launched in 2013, the current consoles were the PS3, WiiU and Xbox 360, so hopefully, as promised, the room upgraded to next-gen consoles and games. Even still, it's a gaming retreat away from the world for you and friends and it'll cost you £199 a night, or at least it did in 2013.
When you think about it, it's pretty amazing how much of an impact video games have had on society. Many have tussled over the idea of video games being bad for your brain, they've been used as clever marketing tools and they've made us rethink the way we approach exercise, learning and the way we view entertainment. It's exciting to think about where we'll be with video games in another 20 years down the road.
Your Daily Blend of Entertainment News
Thank you for signing up to CinemaBlend. You will receive a verification email shortly.
There was a problem. Please refresh the page and try again.