Young Conker Included With Pricey HoloLens Dev Edition Pre-Order, Get The Details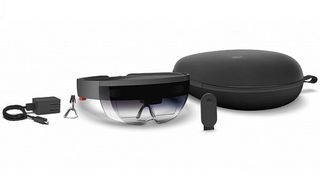 Microsoft has announced pre-order plans for its augmented reality headset, HoloLens, which will set interested parties back a pretty penny. But, hey, you get some free games with the kit, including a gratis copy of Young Conker
In a recent Windows blog post, Microsoft's Alex Kipman announced that the HoloLens Development Edition is now open for pre-order, with shipments of the device scheduled to take place on March 30.
Get ready for a case of sticker shock, though, especially if you thought the HTC Vive and Oculus Rift were a bit on the pricey side. At present, the HoloLens dev kit will set you back a cool $3,000. Keep in mind that this isn't the retail version of the hardware, so, if the thing ever does make it to mass production for in-home use, it's likely to drop down a bit.
Along with a bunch of other bells and whistles, the HoloLens will ship with a copy of Young Conker, as well as a couple of other mini-games meant to show off how the device could be used. Along with Conker, devs will be able to play Fragments, a game that lets you investigate a crime scene in search of clues. There's also Objects, which makes holographic objects appear in the world around you. Finally, there's RoboRaid, an FPS where the baddies crawl out of your surroundings, just begging to be shot.
If you haven't seen Young Conker in action yet, the game turns your living room into a game world, so the crazy squirrel can climb all over your furniture rather than progress through traditional platforming worlds.
Sadly, that rad Minecraft demonstration we saw at E3 2015 isn't ready for prime time yet.
As for those other bells and whistles mentioned earlier, the HoloLens will feature its own version of Skype that will, well, allow developers to chat with each other using their headsets.
The HoloStudio will allow folks to create experiences using gaze tracking, gestures and voice commands, and the HoloTour will take you on a virtual vacation to both Rome and Machu Picchu.
At this point, we figure that it's only a matter of time until we see something for HoloHalo, an augmented reality adventure with Master Chief, or maybe HoloHoola for your simulated dance needs. In case it wasn't abundantly clear, those last two were 100 percent made up. Please don't get mad if HoloHalo never sees the light of day. Though, now we're thinking it definitely should.
So what do you think, folks? Though these kits aren't made for average gamers, do you have any interest in forking over $3,000 to be on the cutting edge of altered reality gaming? Let us know in the comments below.
Staff Writer for CinemaBlend.
Your Daily Blend of Entertainment News
Thank you for signing up to CinemaBlend. You will receive a verification email shortly.
There was a problem. Please refresh the page and try again.